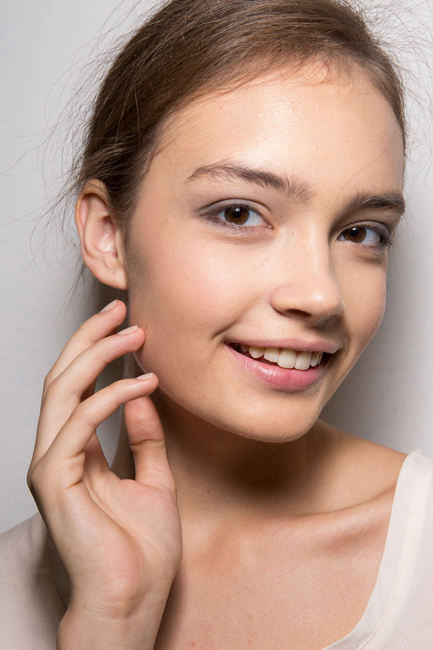 Cleansing, moisturizing, and applying SPF in spades have always been foundational parts of our beauty routine, but in the past few years, additional skin care steps have become more popular than ever. We don't mean just adding toner, either—essences, oils, balms, and more have all worked their way into our daily regimens (yeah, we aren't exactly low maintenance). The product that has us particularly psyched of late, however, is serums. These lightweight, nutrient-packed liquids are a key ally in the battle for healthy, beautiful, glowing skin, which is why it's so important to be using them correctly. Step one: Educate yourself.
Take your vitamins.
Because of their vitamin-rich composition, facial serums are considered in many ways to act as "supplements" for your skin. In fact, most facial serums contain antioxidants to provide protection from free radicals, which contribute to the premature aging process, says Cecilia Wong of Cecilia Wong Skin Care.
Order matters.
Applying your facial serum before you moisturize allows the ingredients in the moisturizers to penetrate at a deeper level, says Wong. A good rule of thumb to remember when working through your skin care routine is to apply products in order of texture, from the thinnest feeling to the thickest.
Give it time to work.
After you apply your serum, take a few moments to let it settle into your skin before putting on that moisturizer. Once the serum has been fully absorbed, it will be better able to "penetrate" the skin's surface in conjunction with your moisturizer rather than just sitting on top of the skin. You'll also help to avoid a heavy or greasy look from overeager layering.
Less is more.
It's easy to overlook the fact that serums are concentrated, and typically, just a little goes a long way, says Kathy Heshelow, founder of Sublime Beauty. Because of the high concentration, serums can be a bit heavy in nature, so there's definitely the possibility of overdoing it. Instead of piling it on (as we, let's face it, often do with moisturizers when our skin is feeling parched), begin with just a few drops of serum warmed between your fingertips. You can always add more!
Choose carefully.
There's a range of serums available on the market right now, which is good news because it means that you have plenty of options. Depending on key ingredients, you can choose your serum to target a wide variety of specific skin concerns, like aging, brightening, or sun damage, says Wong. Keep your skin woes in mind when you select your serum!
Make the investment.
For the price-conscious, it's true that serums are typically more expensive than other skin care products. That's because they're primarily full of more expensive ingredients like peptides, stem cells, or vitamins, and they're made without fillers, moisturizers or additives, says Heshelow. Their lack of filler ingredients enable them to penetrate and absorb deeper into skin than most moisturizers, but that level of efficacy doesn't come cheap.
Serums are delivery systems for active ingredients.
Serums are not just special, fancier moisturizers. The goal of a serum is to ensure that a particular active ingredient penetrates past the outer layer of the skin to reach the deeper skin cells where they exert the bulk of their effect, says Dr. Joshua Zeichner, Director of Cosmetic and Clinical Research, Dermatology Department, Mt. Sinai Hospital, New York.
Keep them chilled.
Most serums are packaged in dark or tinted bottles. This is because they're full of active ingredients with solid expiration dates, which means their shelf life is likely to be shorter than products that lack active ingredients. Avoid storing serums in hot, humid places—in fact, you may even want to keep your serum in the fridge. Refrigeration will help to keep the powerful ingredients potent, and it'll also feel super refreshing when you apply it in the morning.
They're not for everyone.
As with any new skin care product you're introducing into your routine, give your new serum a few weeks before kicking it to the curb. Be prepared to experience trial and error, because even if the particular serum you bought isn't the ideal one for your skin, another choice could very well be. Furthermore, the texture of a serum can be irritating to people with skin issues like eczema or rosacea, which tend to weaken the skin barrier. If you have any serious skin issues, always consult with a dermatologist before embarking upon your search for the perfect serum.
Read more: 15 Ways to Get Rid of Redness on Your Face.