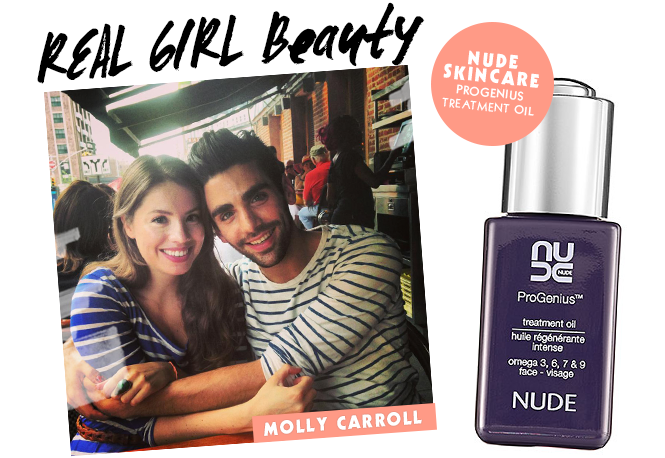 Going backstage and learning tips and tricks from the professionals may be an adventure, but sometimes, the best tricks come from real girls. In "Beauty and the Real Girl," we learn the best beauty tips, tricks and secrets from girls just like us.
Though we all put our closets through a transition when the leaves begin to change colors, we don't always take as much care with our skin care routine. The lightweight moisturizer that works wonders in the warm weather can wreak havoc on your skin when the temperature drops, and it's important to understand what a difference the right products can make.
MORE: 8 Tips For an All Natural Skin Care Routine
We caught up with Molly Carroll, a college student, who shares our belief that the right face care can change everything. Below, Molly gives her personal experience with face oil, and explains what a difference she saw after regular use.
"When the weather starts to transition from summer to fall, like most people, my skin tends to freak out. Dry one minute, oily the next, my skin can't make up its mind. Since I've started using this face oil, I've noticed my skin has remained balanced during the highs and lows of this New York weather. I use this product every night after cleansing and let all the vitamins and nutrients in the product work their magic," Molly explains.
MORE: 8 Body Butters to Keep Your Skin Hydrated This Fall
"ProGenius Treatment Oil is an all-natural product rich in Omega 3 and plant oils that leaves my skin hydrated and visibly radiant every morning. My roommate, a beauty editor and a person who sees me at my best and at my worst, even told me that my skin has started to glow! When someone else starts noticing, that's when you know a product is really working."
Image Courtesy of Molly Carroll
Where to Buy: Nude Skincare ProGenius Treatment Oil, $78, Sephora.com