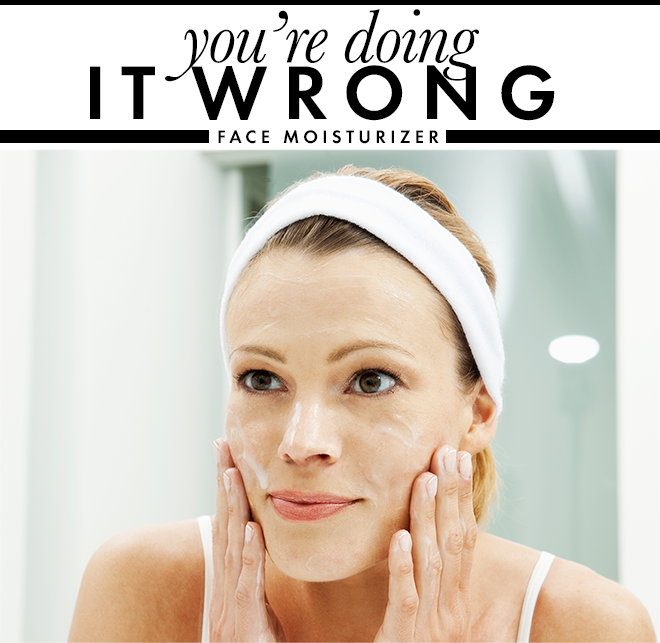 It seems simple enough: Use moisturizer day and night after washing your face. Not quite. What kind of moisturizer you use makes all the difference. PA Allison Santhouse at Manhattan Center for Dermatology in New York says women in their 20s and 30s who are prone to acne are using the wrong moisturizer for their skin type (namely heavy anti-aging moisturizers which clog the pores and cause them to break out).
"It's a difficult balance, because they want to clear their skin but also prevent wrinkles," says Santhouse. She gives her tips for finding a moisturizer that won't irritate skin.
1. Avoid "complicated" moisturizers.
Stay away from moisturizers with too many active ingredients. "These ingredients can interact with their acne medications causing additional irritation or causing the ingredients to inactivate each other."
2. Use a lotion, not a cream.
"Moisturizers are a mixture of oil and water," says Santhouse. "Heavier formulations contain more oil and are called creams. Lighter moisturizers contain less oil/fat and a higher percentage of water and are called lotions."
3. Avoid certain labels.
"Mineral oil is especially problematic for acne prone skin and should be avoided (any moisturizer which contains petroleum/petrolatum is mineral-based). Many creams specifically labeled as anti-aging contain a higher level of oil to water ratio and can occlude the skin, causing dirt and oil to become trapped within the pores which results in comedones (blackheads)."
4. Keep your anti-aging ingredients separate. 
"It is better to use an active anti-aging ingredient separate from your moisturizer, such as SkinCeuticals C+AHA Serum ($134, skinceuticals.com) and Cane + Austin Retexturizing Treatment Pads ($60, caneandaustin.com)."
Derm-Approved Moisturizers
CeraVe Facial Moisturizing Lotion PM ($11.39, drugstore.com)
"Use this at night on top of a prescription Retin A for the right amount of moisture," says Santhouse.
SkinCeuticals Hydrating B5 Gel ($74, skinceuticals.com)
"This hydrating gel is light enough for even the most oily skin and can be used in combination with any light anti-aging serum or pad."
Vanicream Lite Lotion ($6.29, drugstore.com)
Vanicream is a hidden gem that is simple, yet effective. It can be used to moisturize acne-prone skin without causing irritation or breakouts. It can be used on the most sensitive skin.
Read more: How to (Correctly) Apply Topical Acne Medication