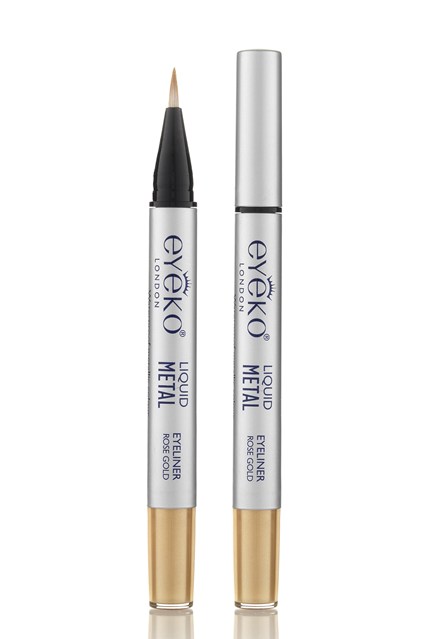 At Beauty High we constantly have new products crossing our desks and are always on the hunt for the next best thing. "The One Thing" is our way of sharing with you that must-have product that you need to introduce to your lives right now, whether it's from a drugstore or a department store.
It's easy to get into a beauty rut – you find a look that works with you, and you stick with it, only "playing around" with trends on the weekends or for fancy events. Well, rest easy, because we have the perfect product to dress up your look without a lot of effort. If you tend to play up your eyes, go for a colored liner this season – or even better, a metallic one. Layering a gold metal liner over a black liquid liner can easily be all you need for a statement holiday look, or you could simply wear a dash of the gold by itself (along your top lid). The trick is in getting the gold onto your eyelid, and Eyeko's liner pen makes it easy, making it our "The One Thing" for this week.
MORE: The One Thing: Jouer Hydrating Lipstick
What Makes It Different: 
The twist-up pen allows it to deliver color in batches, ideally applying a single stroke of color each time you twist.
The waterproof color doesn't budge, flake or fade as you wear, and the brush gives you precision for an easy application.
The rose gold shade can be used to not only line your eyes, but also as a highlight to blend into your brow bones or inner corners of the eye.
Why It's The One Thing: 
The paraben-free formula from Eyeko is loved by many (including Alexa Chung, who just launched her limited edition collection with the brand) for good reason. The easy to use products provide big results, keeping you on trend with minimal effort.
Where to buy: Eyeko Liquid Metal Eyeliner in Rose Gold, $28, eyeko.com