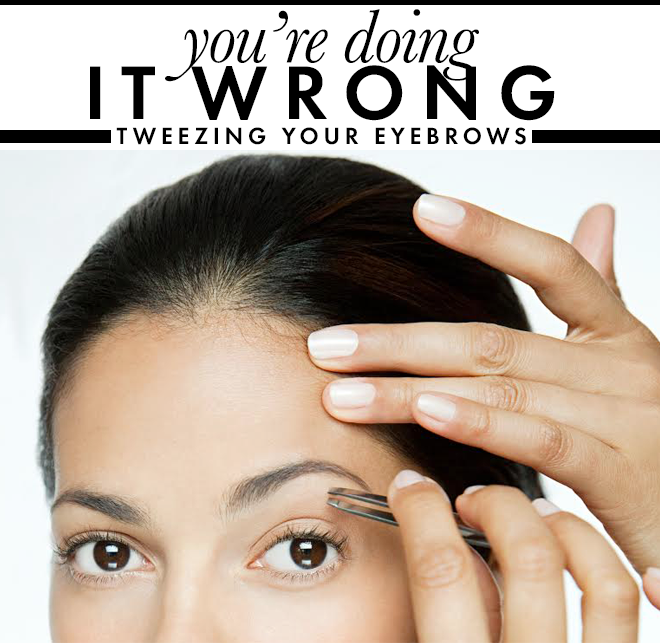 Eyebrows are the most important feature on your face, but how best to maintain them is a question for the ages. Many of us turn to the tweezers to keep errant hairs under control, but it's just so easy to get a little carried away and clear-cut the entire forest.
"Throw your tweezers away and prevent yourself from touching your brows while waiting for them to grow in," says brow expert and founder of The Brow Gal Tonya Crooks. "Everyone has an off perspective with their own face, especially with creating symmetry and finding the perfect shape."
If you've already over-tweezed, Crooks suggests buying a brow growth serum to help the hairs grow back more quickly. Try 
RapidLash Eyelash & Eyebrow Enhancing Serum
($30.49, 
drugstore.com
). If the damage has been very severe—like if you've completely 1990s-ed your eyebrows—talk to your doctor about a prescription solution like Latisse. It's not for everyone, but it can help eyebrows grow in more quickly and fill in serious bald spots.
While waiting for your hair to grow in, learn how to fill them in while making them look natural. To find your natural shape, take a pencil or thin makeup brush and set it against the side of your nose to find the start of the brow. Next, lay your pencil underneath the bridge of the nose across the eye to find the arch of the brow, and finally lay your pencil underneath the bridge of the nose across the corner of the eye to find where the brow ends.
One of the most important things to remember is that, despite what Instagram has told us, natural-looking brows do not have a super intense line underneath them. Drawing a hard line beneath the arch of your brows and blending it upwards creates a dramatic look that really works in pictures, but it can be a little intense for daily life. Instead, use a very thin brow pencil like
Urban Decay's Brow Beater Microfine Pencil and Brush
($20,
Sephora
) and, using light, feathery strokes, follow the natural flow of your brow hairs as you draw the hairs back in. Brush through with the spoolie brush afterwards to blend the color together, then set with a clear gel.
Crooks also says, "Fill in any low spots and even out your brows with a sharp-tipped pencil to ensure it resembles brow hairs as much as possible. Brush through to blend the color and set with a clear gel."