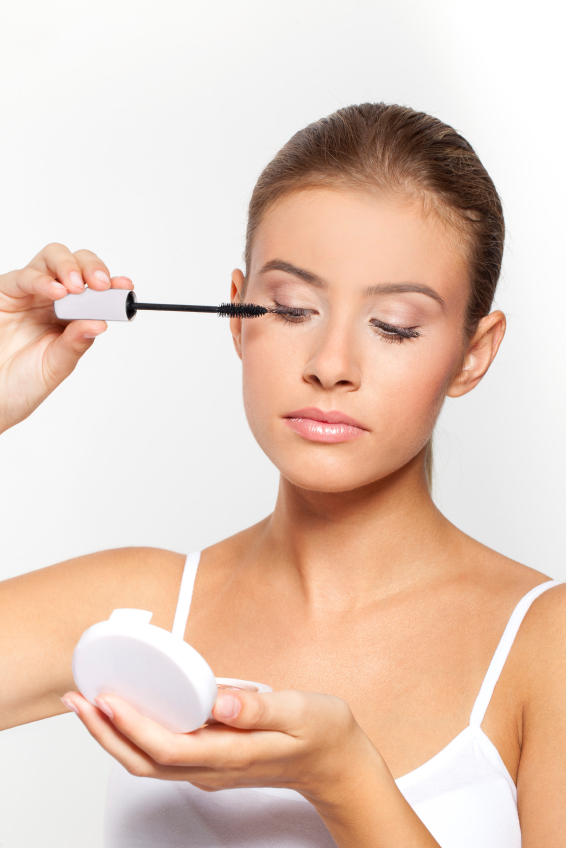 Too often it seems like we leave the house in the morning in good condition, but then we look in the passing mirrored window when entering work and just stop to wonder, "where did I go wrong?"  There are a few slip-ups that most of us make when it comes to eye makeup, and if the eyes are the windows to the soul, we need to make sure those babies look beautiful. In order to avoid some all too common pitfalls when it comes to eye makeup, we've rounded up 10 mistakes everyone makes with eye makeup, plus how to solve them. Read on below!
1. Wrong concealer color for your dark circles:  The color of your circles (blue, green, purple) will impact the color concealer to purchase. We go to the color wheel for help in this department. Use a pinkish tint for green circles and a peachy tint for blue or purple colored circles. This way the colors will counteract each other to hide the fact that you're tired.
2. Curling lashes after mascara: Unless you want to end up with mega clumped lashes and a clogged eyelash curler, we suggest you curl your beautiful lashes before applying mascara to give them the foundation they need.
MORE: Eye Makeup to Balance Bold Lipstick
3. Only using a primer when your using shadow: Primers work wonders and need to be given more credit! The magical thing about a primer is that it not only prevents creasing, but also holds liner in place. Sweep a small amount onto lids even when you're doing a quick five minute makeup routine and you'll see a major difference in how long your eye makeup lasts.
4. Applying liner and mascara before shadow: By applying shadow last, you're just making it difficult to blend out the eyeshadows to achieve the color blend you want. Instead, use shadow and blend, then think of liner and mascara as the frosting and sprinkles.
5. Using liner on your waterline: Be mindful to apply lower liner on the lid, not the waterline, which will almost immediately be removed.
6. Placing a dark shadow on your inner corner:  This will bring darkness to the area of the eye that's already looking like it's suffering. Instead, opt for a shimmery white or cream color. This will bring more light into your eyes making them appear brighter (and bigger, too!).
MORE: The Best Cream Eyeshadows That Actually Last
7. Lining a cat-eye down:  When lining your eyes in an extended cat-eye style, you want to make sure you are keeping the line upwards when extending it beyond the eye. When it's lined more downward, this makes the eye look droopy and smaller. Open up the look by extending the line towards your temple.
8. Not using a waterproof mascara: When it comes to mascara, opting for the waterproof formula is a safe bet. This way, you won't have the lower lashes creating a black rim on your eyes mid-morning.
9. Applying a dark, powder eyeshadow after applying concealer: To avoid having loose, dark powder on your face, apply any dark shadows you're using, then sweep off excess and apply concealer.
10. Sleeping with eye makeup on:  Just because you won't get acne in that area of your face does not mean it doesn't have to be properly removed! Look for eye makeup removers with oils that will help to remove the makeup with out having to scrub it off.
Image via Istock