We all covet bright, wide-awake eyes, but genes and life's late nights don't always cooperate. That's why we're always on the hunt for the best eye cream to fight dark circles and bags and we're constantly searching for the answer on how to get rid of crow's feet for good. Not sure if your formula is working? We consulted cosmetic dermatologist Dr. Oscar Hevia, founder of Hevia MD Skin Science, The Hevia Center for Research and Hevia Cosmetic Dermatology in Coral Gables, Florida to find out what really gets the job done right.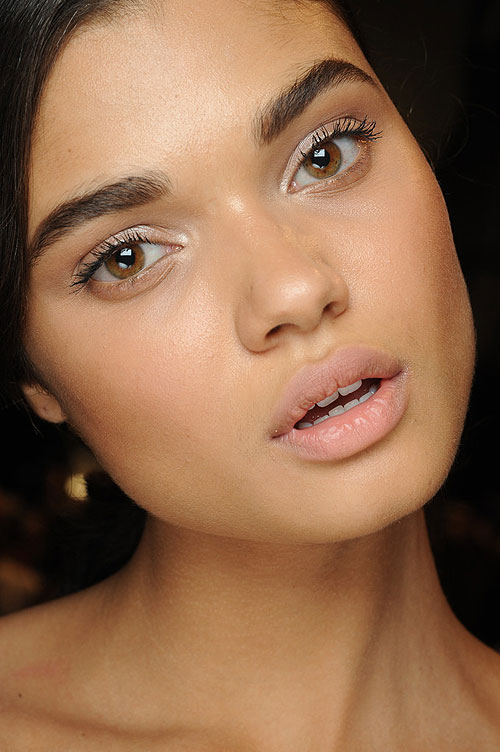 Dark Circles
There are three causes of dark circles, says Dr. Hevia. "Some people have very thin skin," he explains, "so you see the circulation of the blood vessels underneath." Others actually have hyperpigmentation under the eyes, which means they have more melanin concentrated there than in other areas of the face. A third type is the "shadow effect" which occurs when a person has a natural hollow under the eye, causing light to reflect in a way that creates a dusky look there. Many people have two or three of these issues at the same time.
What you can do: Since only one of the three causes of dark circles is on the skin's surface, topical creams are really only effective for hyperpigmentation, Dr. Hevia explains. Look for products that include Vitamin C, the lightening agent hydroquinone, and non-hydroquinone lightening ingredients such as kojic acid and arbutin. Murad Lighten and Brighten Eye Treatment ($67, dermstore.com) contains 1.5% hydroquinone that's safe to use under the eyes. Vichy ProEVEN Daily Eye Corrector ($39.50, vichyusa.com) targets dark circles and spots with Ceramide Bright, a non-hydroquinone ingredient that regulates melanin and also moisturizes.
When the derm can do: If you have one of the other two types — circulatory or shadows — hyaluronic acid gel fillers, such as Juvéderm, are your best bet. "Fillers do a wonderful job of improving the way the light bounces off the skin under the eye to take away that shadowing effect," says Dr. Hevia.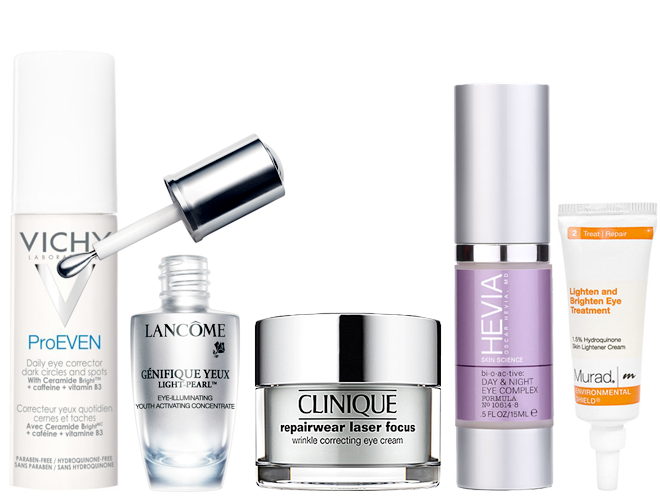 Crow's Feet and Crepey Lids
As we age, the skin around our eyes gets thinner, which leads to fine lines and wrinkles. Dermatologists distinguish between crow's feet, the "squint lines" around the eyes' outer corners, and the crepey fine lines on the upper and lower eyelids.
What you can do: For fine lines, "You want to use creams and lotions that are very hydrating," says Dr. Hevia. "The skin around our eyes is the thinnest skin we have on our face," he explains, so it loses moisture quicker than other areas. Look for creams with hyaluronic acid: "It's a water-attracting gel that works beautifully in eye creams to help to bring a plumpness back to the skin to minimize wrinkles." Try Hevia Skin Science Day & Night Eye Complex ($110, heviaskinscience.com), which features hyaluronic acid and antioxidant red mangrove extract to reduce the appearance of wrinkles. Rich in antioxidants, peptides and moisturizing ingredients, Clinique Repairwear Laser Focus Wrinkle Correcting Eye Cream ($43.50, clinique.com) reduced eye area "smile lines" by 54% in test subjects.
What the derm can do: For crow's feet and lines on the high cheekbone area, Dr. Hevia recommends injectables such as Botox, Dysport and Xeomin to reduce the action of the muscle around the eye that creates squinting. "Botox works great for the crow's feet that are coming off the corners of your eye," he says, but for lines under the eye or near the inner corners, hyaluronic acid fillers are a better bet.
Under-Eye Bags
We all have pads under our eyes that contain fat, says Dr. Hevia. "Genetic factors and aging make it so that over time, those pads actually increase in fat." Allergies, salty foods and crying can also cause temporary puffiness around the eyes.
What you can do: "Most of the topical remedies for swelling under the eyes have a brief time effect," Dr. Hevia says. "The truth of the matter is it's only going to help for maybe 20 minutes, 30 minutes after application." If you wake up with puffy eyes, massaging the area with the cool, metal-tipped applicator in Lancôme Génifique Eye Light-Pearl concentrate ($68, lancome-usa.com) can provide temporary relief.
What the derm can do: It may seem counterintuitive, but injectable fillers can actually help under-eye bags look deflated. "Fillers work beautifully under the fat pads, because you're not filling the pad, you're filling the circle under the pad," Dr. Hevia explains. "It will totally change the way the light's bouncing, and those pads won't look nearly as bulging or big." Surgery is another option; a lower blepharoplasty removes fat from the under-eye area.
Finally, The Most Important Under-Eye Tip Of All
What's just as important as any eye cream? Sunscreen. "Most women don't take the time to really apply it carefully in the dark area, and it's amazing how much that can really help for patients with dark under eyes," Dr. Hevia says. Protect your eye area like you do your face, with SPF every day, and you'll see fewer fine lines, wrinkles and dark circles over time.