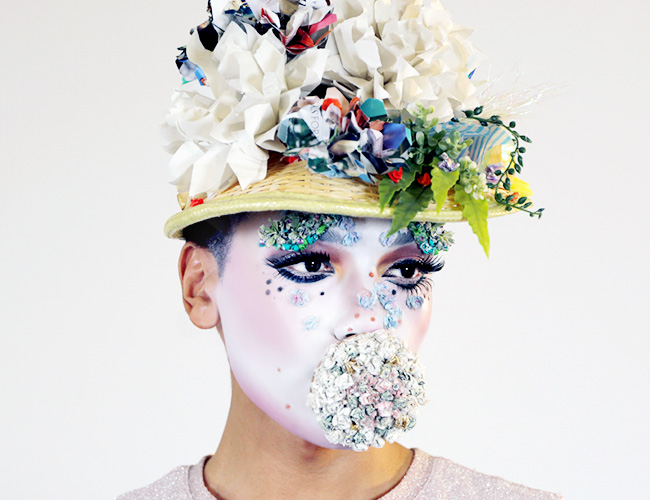 Extreme beauty. What is it, and what does it entail? Well… It's quite simple to define, although not that simple to execute. As a makeup artist and designer, I'm used to going above and beyond, and in most cases outside of the norm, to create as well as achieve really captivating looks and or results (whether it be in fashion, beauty, art, or just everyday life). Extreme beauty, or "Fantasy Looks" as I've coined the term for myself, is any makeup look that isn't necessarily for the everyday, but more so for play, editorial purposes, and even just for fun! It's very theatrical, over the top, couture, and sometimes barely even human. There are many components involved, as well as steps, and every artist is different and has their own unique style and take on what "Extreme Beauty" is or may mean to them, and that is the best part! In the video below, you'll see me completing my latest Extreme Beauty transformation, with some fun facts about how I got there.
More: Extreme Eyebrows: Pushing The Limits On The Bold Brow Trend
This look, just like many of my other looks, is heavily inspired by Japanese culture and nature. The most difficult part about making these faces isn't actually putting all the bells and whistles on, but coming up with a concept beforehand. To make it somewhat easier on myself, I use face charts as a blueprint to map out what it is I'm going to do. But, when doing my makeup, for the most part, I just wing it. Drawing inspiration and creating a mood board is also another step in the process for some. In addition to the kitschy lifestyle of the Japanese and Mother Earth, I draw inspiration from fine art and archival collections from some of my favorite fashion designers. Once I have the concept down, the fun really begins! Lashes? Check! Glue? Check! Beauty Blender?… Double check!
Here's a shortlist of materials I used to create the look you see above:
Hat:
1. Various types of papers (in which I've created different floral motifs with. I love origami, so paper is my main ingredient in most of my concoctions).
2. Faux foliage
3. Felt
Mouthpiece and eyebrows:
1. Dollar bills
2. Diamonds (I know, kinda fancy, right?)
3. Various papers
4. More faux foliage (on the brows)
Total time on props: 5+ hours
Total time on face: 3 hours
More: Paris Couture Fashion Week Beauty Looks We Love
It's definitely a project that one must be dedicated to in order to complete. Though the process is long, it's fun, creative, and interesting. Think of it as an art project, but for your face! If you have the patience for it, why not give it a go?