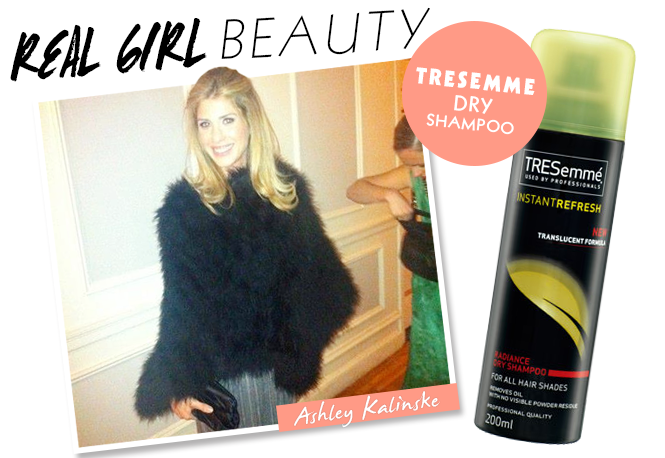 Going backstage and learning tips and tricks from the professionals may be an adventure, but sometimes, the best tricks come from real girls. In "Beauty and the Real Girl," we learn the best beauty tips, tricks and secrets from girls just like us.
We've all heard that washing our hair every single day is just not healthy for it – we can strip it of the natural oils that it needs, and when the weather cools down, causing our hair to dry out, we automatically try everything we can to add more oil, not less. So, when we learned that one of our coworkers was able to go at least 5 days without washing her hair, we were impressed to say the least. We would have never been able to tell (props to her styling talents!) and we had to steal her secrets.
Below, Ashley Kalinske, StyleCaster's Publisher Relations Manager, explains just how she perfected her first wash and style, and then exactly how she extends that first wash to last her a full week (with the help of dry shampoo of course) so that no one is the wiser.
MORE: Beauty and the Real Girl: How to Get the Perfect Top Knot
"I love not washing my hair. It saves time in the morning and hassle. The texture to my hair is wavy which by nature, is dry and lends itself to lasting. However, with a couple of key products, not over-brushing, and strategic hair styles, I make one hair wash and blow out last up to 5 days!" Ashley says. Here are her steps to getting through the full week:
Day 1: After washing my hair with color protecting shampoo and conditioner, I squeeze excess water out of my hair and then blow dry using a round brush. After I blow dry my hair, I go over the ends with a flatiron. I don't iron at the roots as I want the body. I then put a small dab of moroccan oil on the ends of my hair to finish the look. I don't brush my hair and wear my hair down.
Day 2: I will shower with a shower cap. Afterward, I will blow dry the areas that may have gotten damp in the shower. I don't put any product in my hair. If there is a crimp, I will fix with a flatiron, but I don't overdo it. I may dab the ends with moroccan oil, but I don't always do so. On the second day I typically wear my hair down.
Day 3: By day 3, my hair starts to lose the body and begins to look oily. I'll still wear a shower cap in the shower and then blow dry the areas that may have gotten wet. To combat the grease, I use dry shampoo – typically Tresemme's Dry Shampoo. I spray on my scalp behind both ears, at the base of my head, and at my crown. I use a flat brush to brush through, but am careful not to over-brush my hair. I will style my hair half up half down with either a clip or bobby pins.
Days 4 and 5: By day 4 and 5, I wear my hair up. I will still shower with a shower cap, blow dry if necessary, and will use dry shampoo where my hair looks most oily (typically on the sides behind my ears, and the base of my head). I then style my hair in a bun. I love using a donut to help create a flawless bun.
Image Courtesy of Ashley Kalinske
Where to Buy: Tresemme Dry Shampoo, $4.99, walgreens.com