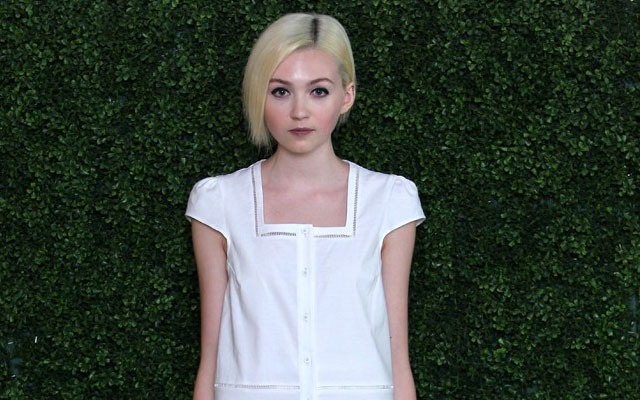 As most of us know, pulling a fashion show together takes teams of people and months of planning. From figuring out which fabrics to use to determining which lip color will coordinate best, every detail matters. Over the course of New York Fashion Week, we'll be sharing with you the "Life of a Look" in which a select few MAC Cosmetics artists walk us through each crucial step of planning the look for their shows.
Senior Artist for MAC Cosmetics, Keri Blair, took us in depth through the planning for the Rachel Antonoff Spring 2013 presentation. Below, she walks us through everything from her initial meetings, to the makeup test and the "Garden Party" presentation!
August 13th:
Quick email exchange with Rachel about the inspiration of the show…Rachel sent me a link to the short film the Power of 10 and said there would be some type of topiary garden with girls doing naughty things near the bushes.  ….Hmmm provocative.
August 31st:

8:50 AM – Stop by the deli for some pre-fashion week essentials…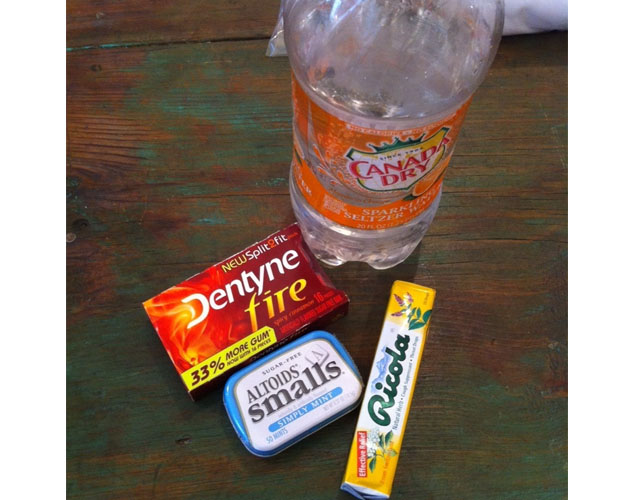 9:00 AM – Arrive at Rachel's studio for the makeup test. Rachel and I have a quick chat about the direction for the hair and she talks me through some of the new fabrics she will be featuring for the show. We discuss some ideas and color palettes for the makeup.
9:20 AM – Set up my makeup and get to work on putting all the elements into place on the face.  I have two ideas in mind: one is a stained eye and the other is more of a graphic statement with a bold eyeliner.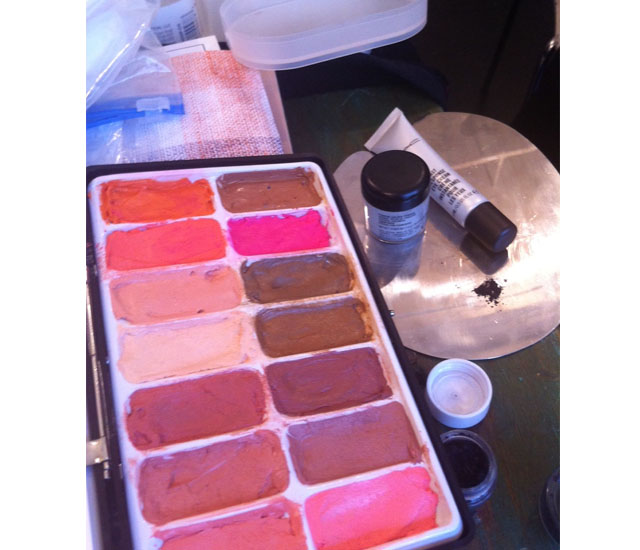 10:00 AM – The makeup is done and we're reviewing two different looks on the eyes. We all have a quick pow-wow and decide that the statement eyeliner picks up the graphic elements in Rachel's collection, so we go with that look. The graphic liner makes the girls a bit tougher, naughtier and gives them more of an edge. We were definitely telling a different story than last season.
10:20 AM – I get to work on balancing out the makeup so we can take reference photos for the day of the show.
10:40 AM – Look is completed, photos are shot and my assistant and I discuss the products used and what we will need to prepare for the show. We confirm details like call time, venue and number of models that will be used for the presentation.
11:00 AM – We are packed and wrapped and looking forward to the day of the show.
September 8th – Show Day!
4:15 AM- Alarm goes off. It's an early day today! Glad I prepared all my supplies and snacks last night I am feeling a bit groggy.
5:20 AM – Out the door and off to the tents (I am also keying the nails for the Ruffian show today – busy, busy).
6:00 AM – At the tents and ready to get started.
9:30 AM – Ruffian has wrapped and I am now heading off to Rachel's show.
10:30 AM – Arrive at Drive In Studio's (Rachel has held her presentation here for the past two seasons) the set isn't finish being built yet but it already looks pretty amazing. I better get set up most of my team has already arrived as well.
11:00  AM – We are starting the makeup demo right on time. We have a lot of work to do before the girls need to be ready at 1:30 for their look book shoots.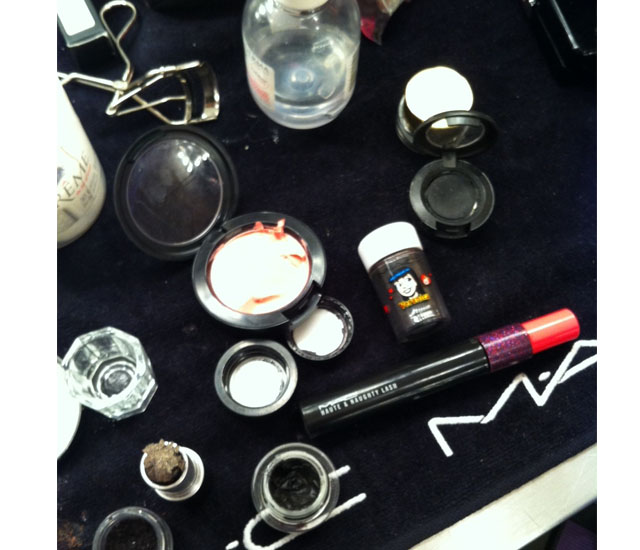 11:30 AM – Demo is done and my team has strapped on their brushes and are ready to work.  The eye focus is a wedge shaped black eyeliner in Blacktrack Fluidline topped with a new pigment Black Poodle that will be out next spring. Haute & Naughty Mascara on the top lashes. A stain of color on the cheeks using So Sweet, So Easy Cremeblend Blush. And the lips are stained with a mixture of Firm Form Lipstick, Black & Magenta Lipmix and Lip Balm. The story is that these girls come from money, their parents' country club lifestyle affords them lots of luxuries and maybe even the right to be a little naughty…have they been stealing sips of wine from people's glasses? Or maybe making out with the boys who work at the club? As a last minute detail we decide to add the Shine Mixing Medium to the eyelids so that as the "Garden Party" continued, the liner would start to deconstruct and look a bit more worn in.
12:00  PM – The backstage is in full swing, pigment & hairspray is flying – nails are being painted and pressed on.  I am asked to speak to various bloggers and beauty editors and check my team's makeup.  It's the eye of the storm.
1:30 PM – Most of the girls are done just waiting on two more to show. I sneak a quick video interview before she arrives and then we ATTACK! We tag team with hair and get her done within 10 minutes of her arriving.
1:45 PM – Girls are dressed and being placed into their various scenarios…badminton, picnicking, and even a little cake cutting is coming to life within the confines of the gorgeous topiary maze.
2:00 PM – Doors open. The show is mobbed with press, fashionista's, stylists, bloggers and editors.
Even a few musicians…Like my good friends Matt Johnson and Kim Schifino from Matt & Kim. It's really a gorgeous venue and show…Rachel always has every last detail covered including some pink lemonade and PB&Js for guest to snack on and enjoy!
To follow Gina as she goes through the rest of her Fashion Week journeys, make sure you're connected with her on Twitter @MAC_Keri_B and of course, follow @BeautyHigh for more NYFW updates!