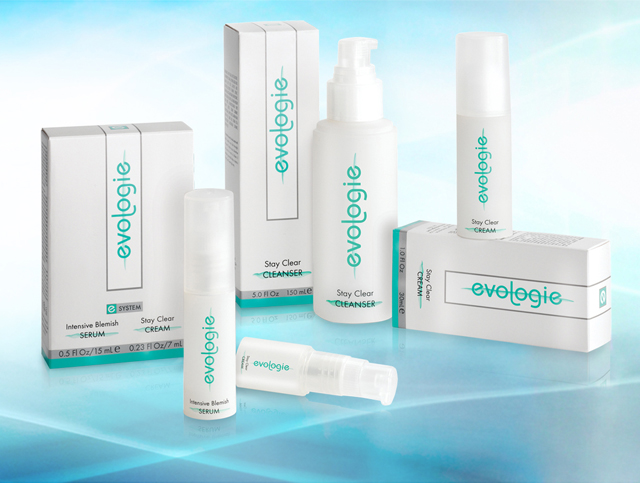 At Beauty High we constantly have new products crossing our desks and are always on the hunt for the next best thing. "The One Thing" is our way of sharing with you that must-have product that you need to introduce to your lives right now, even if it means skipping Starbucks for a couple of days.
No matter how much you may be obsessed with the latest lip product or getting your hair to have that perfect beachy wave, any beauty look isn't as great as it could be if you don't have flawless skin to start it off. While we're definitely not all blessed with acne-free complexions, we spend a lot of our time figuring out how to make them just that. We recently came across a new brand called Evologie which is a 3-step system (similar to Proactiv) but doesn't leave you with the harsh, drying side effects.
Whether you deal with cystic acne or hormonal breakouts, you know that having clear skin simply makes life easier. From being able to go makeup-free at all times (or just a swipe of BB Cream) to having an extra air of confidence, almost all girls from teens to early adulthood struggle with finding a cure for breakouts, and will try almost anything. So obviously, we're trying it for you – and loving what Evologie did for our skin.
What Makes It Different:
A cleanser, serum and cream work together with a revolutionary patent-pending YS3 complex to battle the needs of changing skin to control any breakouts.
The products not only clear up your blemishes quickly, but it also helps to reduce dark spots.
Evologie is non-irritating and non-drying, as well as oil free, fragrance free and alcohol free.
Plus, Evologie was created for ALL skin types and ALL ethnicities, no matter what your age.
Why It's The One Thing:
While many acne fighting products may bring you results, they also tend to bring you harsh side effects like drying, or even worse, will clear up your skin at first and then cause you to breakout after (due to an overabundance of oil production to make up for that dryness). Since Evologie doesn't dry out your skin, you simply reap the benefits. We have been testing this product for over two months now and have gotten an overwhelming amount of compliments on our skin – trust us, we weren't expecting the fast results!
Evologie Stay Clear Products, $32-$62, evologie.com