As a diehard Kardashian fan, I have always dreamed of getting those long, luscious locks. Realistically, I knew my hair would never grow that long on its own, so I did what the Kardashian sisters do all the time: I got extensions. There seems to be a lot of mystery around extensions: Is it human hair? How long does it last? Does it damage your hair? I hit up the Jeffrey Stein Salon in New York City, where the SHE by SO.CAP.USA team gave me a new look and all the details about extensions.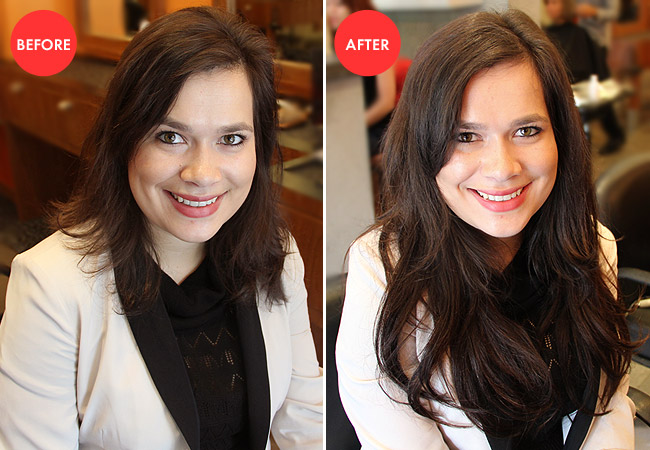 We started with a nine-piece clip on set, in varying sizes. The largest pieces have three clips and get progressively smaller. After sectioning my hair, my stylist, James D., applied the first, longer piece underneath my hair, at the base of my skull. Then he attached the middle clip first, before clipping in the side pieces. He also teased the roots of my hair, just to help the clips stay put.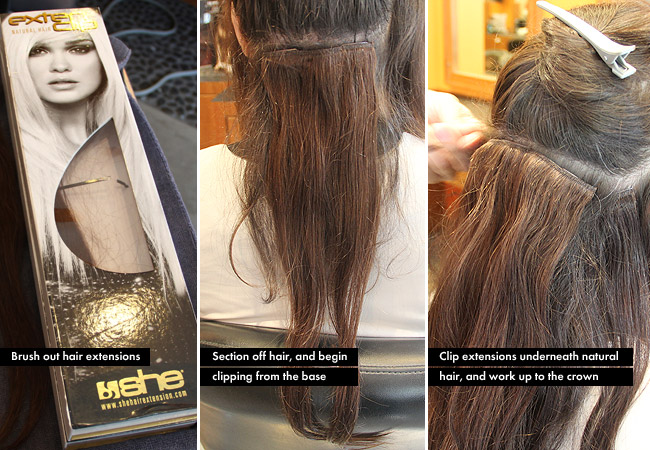 No one's natural hair color is just one solid shade, so James used a variety of colored hair extensions. SHE extensions are 100 percent human hair, which I thought would gross me out, but once it's in and I was looking fab, it didn't seem to matter. He helped make my hair look thicker instantly as he added smaller pieces on the side of my head, always hiding the clips underneath the hair.
When all the clips were in place, James began styling my hair. Although you don't want to brush too vigorously, it's important to blend your hair with the extensions for a more natural look. He blow-dried my already dry hair, just to get a more even texture.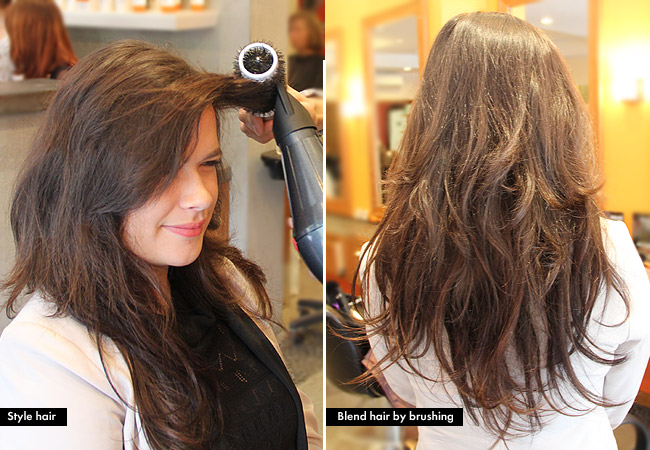 Clip-ins are a great alternative to permanent extensions; they last forever, you can put them in yourself, and they're much more affordable. While permanent extensions can cost you well over $1,000, these clip-ins range from $12 a strand, up to $400 for a full head of nine-piece clip-ins. Prices tend to vary, but most salons will give you a free consultation before you take the big leap.
Here's why about clip-ins worked for me: They're so easy to maintain and you can style them as you please–when I got home that night, I ran a curling iron through my new mane to get a wavier look. Since then, I have washed my extensions, just like regular hair, with SHE CO-C shampoo (available at salons nationwide), and dried them as I would my own hair. No damage, no fuss. With all the volume and my new length, I think the Kardashian sisters would be proud!