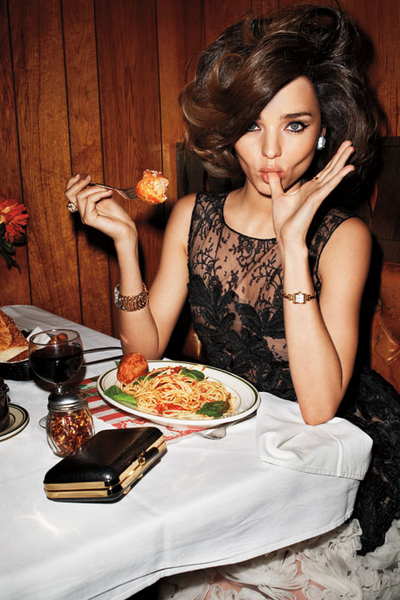 Courtesy of Harper's Bazaar
The new season of Mad Men is premiering Sunday, and it seems we aren't the only ones excited for a little Don Draper time. Terry Richardson recently shot a 50s-themed photo spread for Harper's Bazaar with Miranda Kerr as his subject. The photos are breathtaking and have us wondering if Miranda was possibly born in the wrong era. More importantly, we can't help but feel a little lazy when looking at the hair and makeup trends of that time.
It seems like back in the 50s and 60s, women didn't dare walk out the door unless their hair was perfectly curled and their lips were painted red. These days, it's all about the "natural look," which means sheer makeup (except for a pop of pink here and there) and just-fell-out-of-bed waves. And while we appreciate the right to a more relaxed beauty routine, we can't help but feel nostalgic for the gold powder compacts and attention to detail.
If you, too, want to channel your inner Betty Draper, there's good news! Not only does Estée Lauder's Mad Men collection come out today, but there's plenty of great makeup tutorials to get you started.
Powder Your Nose With These Great Recommendation
Create Some Fabulous Retro Curls