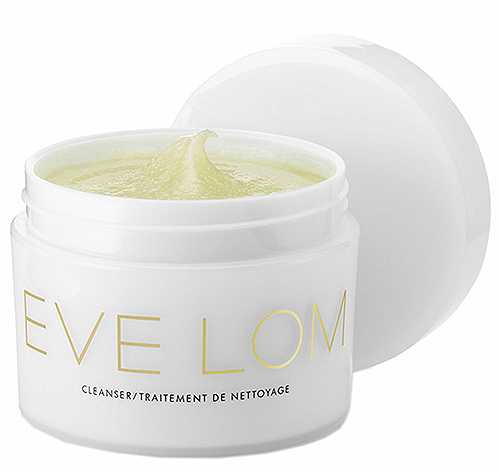 I approach my skin care with one goal in mind: To find the right combination of products, the right routine, that will give me smooth, even, poreless skin and enable me to forgo the foundation, spot-conceal as needed, and skip straight to the fun stuff. To be able to slick on some eyeliner or a bold lip and walk out the door without crippling fear of the redness around my nose or the gaping black-hole pores on my chin—that is all I aspire to in this life.
It's always my hyperbolic inclination to say I've tried everything, but obviously that is a lie, because until just recently, I hadn't tried Eve Lom. The eponymous essential oil-based line by a renowned facialist is beloved by celebrities (including Kate Hudson and Gwyneth Paltrow) and editors alike. Vogue called the line's star product "probably the best cleanser in the world," and who in their right mind would turn down the opportunity to take the award-winning, Vogue-sanctioned "best cleanser in the world" for a test drive? Not I.
The Cleanser ($80, spacenk.com) is incredible, yes, but the application and removal process is also noteworthy on its own, with each tub of balmy cleanser accompanied by a muslin cloth. You massage the cleanser into skin using circular motions, then immerse the muslin cloth in hot water and press it to your face. It's all very spa-like and luxurious, even if you, like me, are washing your face in a creaky Brooklyn basement. Just having this cleanser in my bathroom makes me feel like I should be paying more for rent. (Just kidding, I already pay more than enough.)
The instant results of the cleanser alone had me thinking, "Hey, this Eve Lom could be the one." My pores looked smaller, my overall complexion was brighter, and my skin felt super-smooth and clean. I followed up with the Rescue Mask ($85, spacenk.com), a kaolin clay-based treatment that smells refreshingly of camphor and contains honey and soft particles of sweet almond seed meal for exfoliation, then layered the Intense Hydration Serum ($95, spacenk.com), an almost watery, glycerin-based formula that absorbs in seconds, beneath the super-concentrated TLC Cream ($80, spacenk.com), which is incredibly thick but not at all greasy or heavy-feeling and smells softly, wonderfully, of the Rose Otto of Bulgaria oil it's formulated with.
My skin looked amazing—even-toned, blemish-free, and supple rather than dull or dry—right after my cleanser-mask-serum-cream ritual, but it looked even better in the morning. I usually wake up looking like I either spent the past eight or nine hours sobbing hysterically or binge-drinking rather than, well, sleeping, so imagine my surprise when my morning mirror-face was not the scary bring-me-the-foundation-pronto sight I'm accustomed to.
And about that foundation: I didn't wear it. Nope, not a drop. Okay, so I slapped on a light tinted primer and some highlighting concealer under my eyes, but that's it. I was done with my makeup in under five minutes, which is about the time it takes me to apply foundation alone on a regular day—a day without Eve Lom, something I hope never to experience again.
Read more: 10 Celebrity Skin Care Favorites