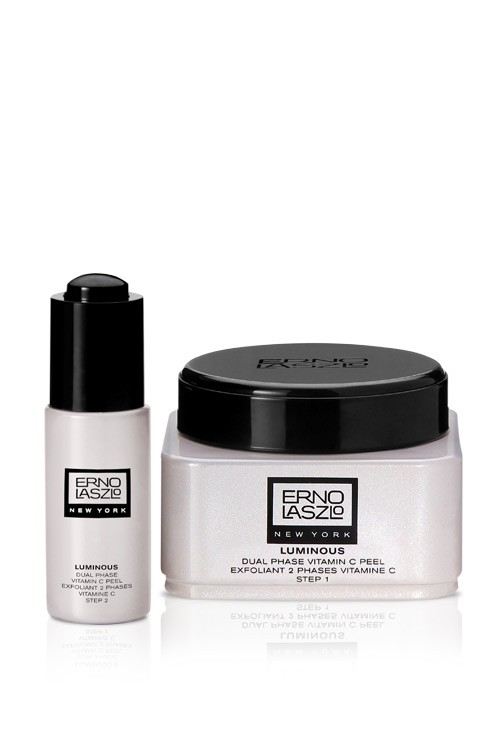 You know how you see the "bestsellers" and "most popular" products in beauty stores, so you of course scoop them up, but then you realize you have no idea how to work them? In "How It Works," we're going to explain to you exactly how to get the best use out of your products, whether they are cult classics or hot off the conveyer belt must-haves. We'll teach you the basics, as well as a few industry expert tips to make sure you're getting the most out of everything you buy.
Heading to the salon for a facial treatment is exactly that — a treat — but on a regular basis, we don't have the time or the cash to spend at the spa. Everyone wants the beautiful, glowing skin that comes with the appointment, but we're all about finding an at-home treatment. So, when we found Erno Laszlo's Dual Phase Vitamin C Peel, we forgot all about the spa in favor of getting glowing skin while watching our favorite show on Netflix.
MORE: 10 Things No One Ever Tells You About: Stretch Marks
Product Perks: 
Some at-home peels can look a little dangerous, but this two-step process gives you serious quality with complete safety at home.
Besides giving you a total glow, using this peel also fights discoloration and brightens, all while reducing fine lines, too!
Smooth, exfoliate, and hydrate your skin with this dual phase peel.
How It Works: 
First, smooth the Step 1 peel all over your face, avoiding the eye area, massaging gently in circular motions for about three minutes. Place 2-3 drops of the Step 2 Activator in your hands, then massage over your entire face, avoiding the eye area. Fair warning: A warming sensation will begin happening and foam will start to appear. Let the peel absorb into your skin for about one minute, then rinse with warm water and apply moisturizer to seal the hydration in your skin.
Where to Buy: Erno Laszlo Luminous Dual Phase Vitamin C Peel, $100, Neimanmarcus.com