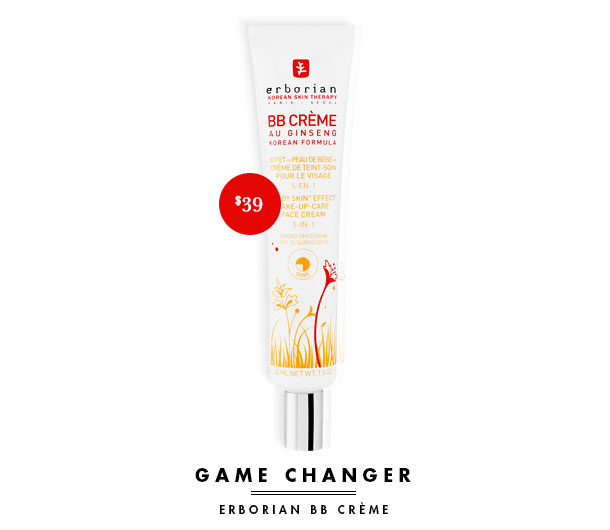 When it comes to foundation, I have a few products that I like, but nothing that I really LOVE. I tend to mix a little of my favorite concealer in with a great primer and leave it at that.
Until now. Because I have discovered the best BB cream EVER—and it probably isn't what you think.
Meet Erborian BB Creme ($39, sephora.com), which is totally changing how I think about base makeup. If you haven't heard of Erborian yet, you will—they're relatively new in the US, but they've been carving out space in the hypercompetive European beauty market for some time now. And I can really see why; this BB is so amazing, I have no idea how I'll ever use anything else.
How do I love it? Let me count the ways: not only does the lightest shade match my complexion perfectly, it also manages to make my skin look brighter without giving me any strange color casts. It's like I'm perfectly lit at all times, which I am beyond into.
Not only that, but as someone with a few enlarged pores and minor acne scarring, I require a BB that actually delivers on the promise of "smoothing skin." Erborian's BB is the first that actually does this without requiring a major layer of primer underneath: it takes my good skin and makes it genuinely great. It's easy to blend, and once it sets, it's really set: no sinking into fine lines, no melting away in the heat.
But my favorite thing about it is the finish. It's described as giving a "baby skin" finish to skin, which sounds a bit gross—until you realise that that's actually what it does. My skin is slightly plumped, dewy and radiant, with an almost velvety look that is, in truth, remarkably babylike. It doesn't aggravate any retinol-induced dry patches, nor make me greasier than a piece of pizza. It also lasts through practically everything: 9 hours at work plus a sweaty commute, a sudden rainstorm, a dusty trip to the dog park…it's basically a miracle.
And the proof, as they say, is in the pudding. Here I am, wearing this and some highlighter, and you can see that my skin looks totally amazing.
https://instagram.com/p/6LQ6hvsEAO/?taken-by=helloalle
Some application notes: I've found that the best way to apply and blend this is with your fingers, rather than a sponge or blush. It also seems to wear better if you skip powder entirely, or just apply it where you get oily, rather than all over your face.
My only issue is that this product only comes in two shades, and the darker of the two is not especially deep. I hate that I still have to say, in 2015, that cosmetics brands should carry a wide range of shades to match a wide range of skintones, since human being come in more colors than 'light' and 'medium'—but alas. I can only hope that Erborian plans to expand their range of shades, and soon; this BB is so good that I want all my friends and family members to be able to wear it.
So what are you waiting for? Get thee to your local Sephora and prepare to have your complexion transformed.
More from Daily Makeover: The Concealer that Will Change Your Life