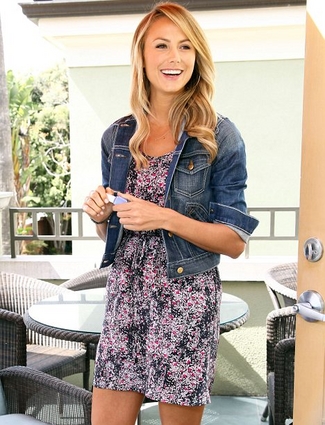 Photo: Sara Jaye Weiss, Startraks
When I say I'm obsessed with Essie, it's no exaggeration. Every season, she doesn't disappoint with her choice of the hottest colors of the season, and the formula…well it's unbeatable. And now, Essie's collaboration with TOMS has turned my obsession from frivolous to supportive.
Vlogger Julie G Designs A Nail Collection
In light of One Day Without Shoes yesterday, TOMS teamed up with Essie for the second year in a row to raise awareness for children that are at risk of disease and infections because they grow up without shoes. The cosmetics company has designed a limited edition nail polish, Barefoot in Blue, to encourage people to go barefoot with a gorgeous pedi.
"We wanted to come up with something that would really spark conversation and bring attention to the campaign – a new rally cry for an important cause," said Essie Weingarten, founder and creative director of Essie cosmetics. "There's no better way to do that than with blue toes!"
Actress (and George Clooney's other half) Stacy Keibler is the unofficial face of the campaign, recently being photographed painting her toes in Barefoot in Blue while vacationing in Santa Monica.
To show support for the cause, we are giving away Barefoot in Blue polishes. Be one of the first 50 to like our post on <a href="https://www.facebook.com/DailyMakeover&quot; "target=_blank"Facebook!
* (U.S. residents only please)