Aaaah awards season. A time to look back at all of the accomplishments in TV and movies. A time to be thankful that we live in a world that has such a deep and glorious pool of on-screen talent from which to choose. And lastly, a time to mock Guiliana Rancic's hair line and potruding collar bone on the red carpet.
Let's be real. The awards are fun, but it's the red carpet that we live for.
With that being said I give you my highly professional picks for the best and worst looks from the 2011 Emmys.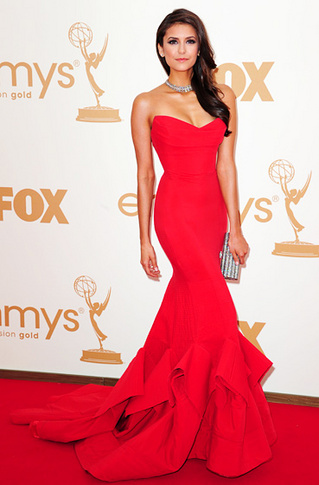 Nina Dobrev in red Donna Karan. Weeeeeeeeeeeeeeeeeeeeeeeeeeeeeerk it girl. That girl is as skinny as a tube of toothpaste, but somehow they managed to give her some slamming curves. Ian Somerhalder is a lucky dude. (And she is one infinitely lucky girl.)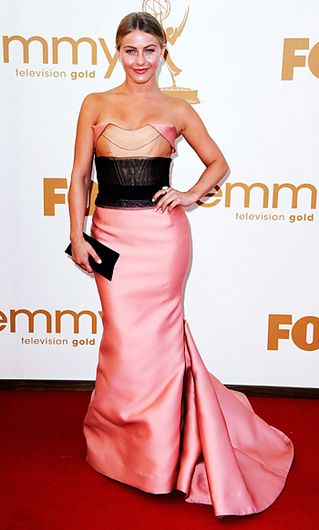 Ooofta. Julilanne Hough. Bummer! The top of the dress looks like wilted flower petals, the bottom of the dress looks poorly made, and what is this belt? Not to mention her complexion looks blotchy and uneven. It must be super exhausting having to always make straight excuses for Ryan Seacrest.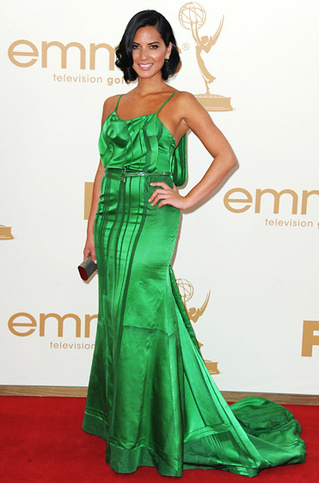 I looooooooooove the color of this Carolina Herrera Dress. But the too-tight fit around her thighs and the matchy matchy belt put this on my bad list even though I think Olivia Munn is hiiiiiilarious. Better luck next year, gurl!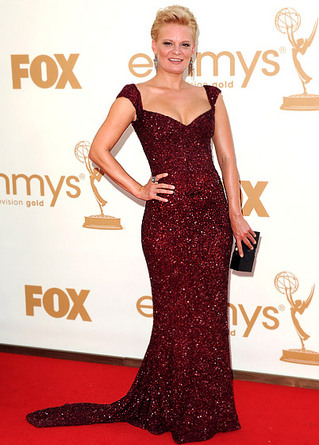 I've loved Martha Plimpton ever since The Goonies. I also loved her in 200 Cigarettes. But I reeeeally love her in this ruby Zac Posen. The simple makeup, the golden wheat hair–it's all working for her. Bravo!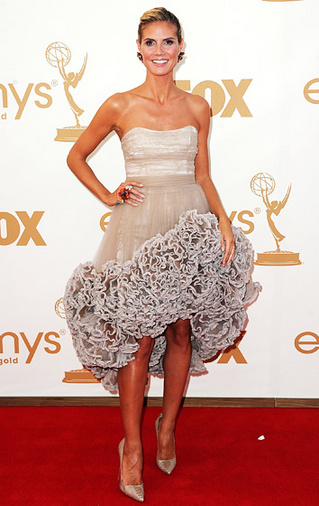 Normally, I think Heidi Klum looks flawless in anything. And I give her serious props for wearing Christian Siriano to the awards show. Buuuuuuuuuuuuuuut she looks like a coral reef. And one that hasn't been dusted in a long time.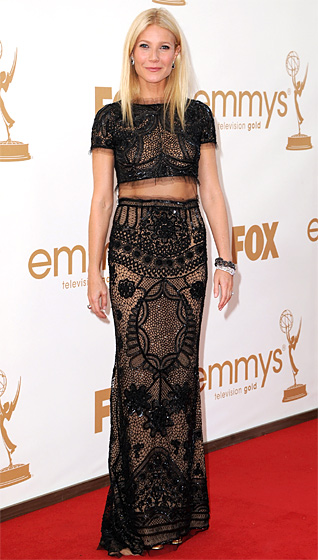 What the hell?! No. Just…no. I don't care if it's Emilio Pucci and I don't care if you have a slammin' body. Midriffs at awards shows are NOT OK. I had also just come from seeing her in Contagion where she foams at the mouth so maybe that skewed my opinion as well. Just saying…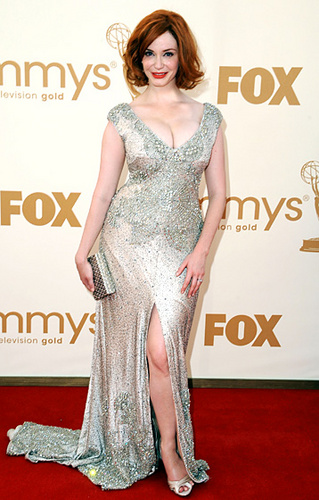 Oh look. Christina's Boobs brought her to the ceremony! How nice of them!!! Let's be real. Girl is gorgeous, but if she was small chested she'd just be another "fat" actress in Hollywood.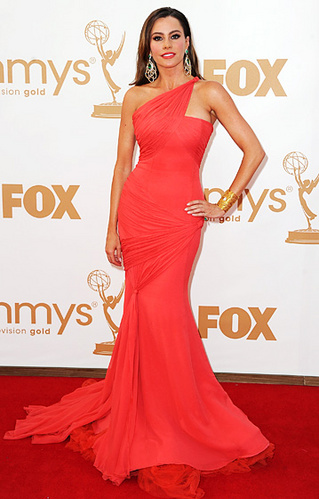 This is bar none my favorite color of the night. The corally-red looks stunning on her, as do the gold jewelry and the little hint of aqua in the earrings. Even thought she pronounced the dress "Vera Wong" Sofia is still at the top of the Best Dressed List for sure.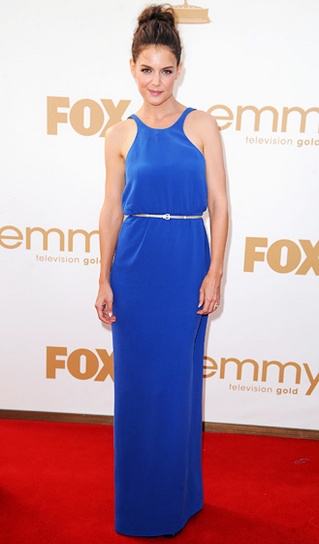 I like this dress from the chest down. There is something about the arm holes of this Calvin Klein that bother me. The color is fantastic, I just wish Katie would improve her posture and look like she's happy to be there.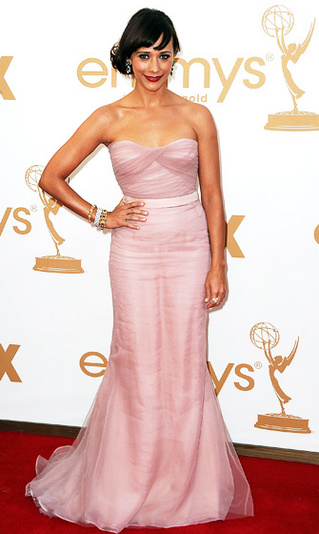 My favorite thing about this look? The plum lipstick. Must find out what it is! My second favorite thing is this pink Alberta Ferretti Rashida Jones is werking. Stunning but not too serious. She looks beautiful.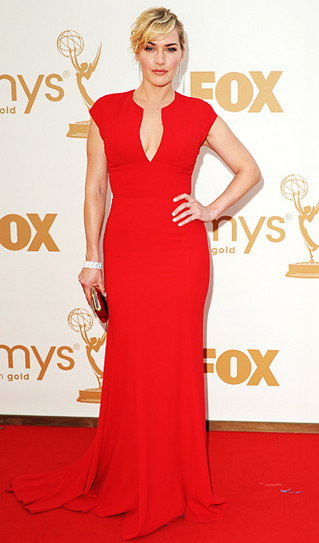 The simple up-do. The stunning red of the Elie Saab dress. And those brows! How does she get them so full and thick?! Kate Winslet, once again, stuns on the red carpet.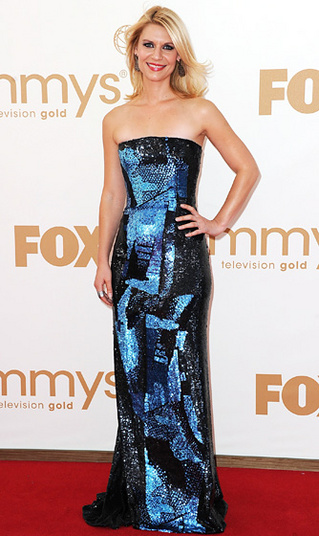 I wish Angela Chase, I mean Claire Danes would come back with her red hair. Anyway not only does this dress give me sober acid flashbacks of how bad I was at geometry, but what is with her and the tan lines?! If you remember she
had them at the 2010 Golden Globes as well It's called spray tan gurl! Lawd knows you're rich enough for it!!!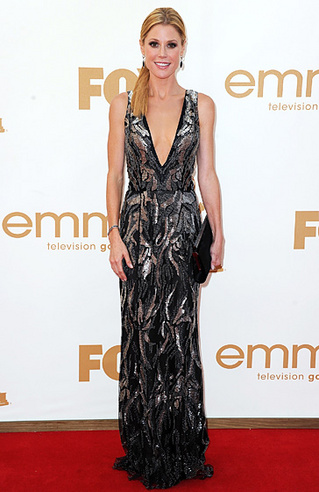 Julie Bowen. Wear a plunging neckline when you have something resembling boobs. Your sternum looks freezing!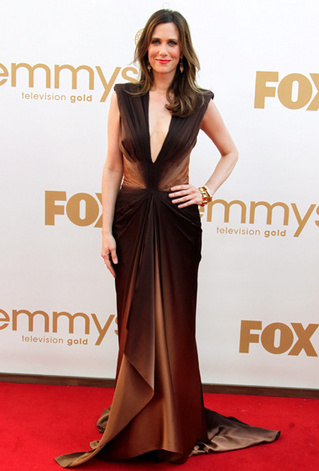 Kristen Wiig in Zac Posen. I've always thought she was sort of tom-boyish but she looks great in this chocolate/mocha ombre dress.
All in all I thought there was a nice mix of colors. It was definitely a bright awards show.
What did you guys thinks of the awards show?