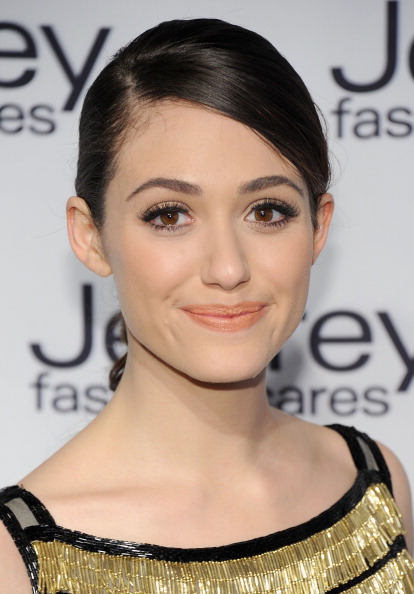 At Beauty High, we're avid Emmy Rossum fans. From her killer acting skills on Showtime's "Shameless" to her latest album "Sentimental Journey," the girl makes us want to ditch work and head for a Knicks game just so we could hang out with her. Last night at the Jeffrey Fashion Cares Fundraiser in New York City, Emmy showed up looking effortlessly chic, donning a '60s inspired makeup look and simple, sleek hair. We caught up with Emmy's makeup artist, Jake Bailey, to get the full scoop on her look for the evening.
Jake tells us, "We wanted to create a mod look, but bring it into the millennium with really clean, glowing skin and a dramatic eye."
Start with a glowing complexion by using Biore Acne Clearing Scrub, clearing away any impurities and leaving a polished, fresh face. Then apply sheer, lightweight foundation for an even glow. Next, move onto the eyes. Line the top and bottom lashes with waterproof crème eyeliner, plus add a thin line in the crease of the eye to make it even more mod. On the bottom lashes, use the waterproof liner to paint tiny strokes in between the lashes, eliminating the need for false lashes on the bottom lash line and emphasizing the '60s look. Apply a strip of black false lashes to the top to attain the doe-eyed look, finishing with a coat of waterproof mascara on the top and bottom lashes. Highlight the eye with a creamy, radiant concealer along the brow bone, finishing the eye makeup.
Next, use a satin lip pencil one or two shades darker than the natural lip color to accentuate the lips. Skip traditional powder in favor of a crème blush or bronzer to keep cheeks dewy and fresh looking. Finish the entire look with a dusting of translucent powder over the T-Zone to eliminate shine and you've got Emmy's mod look!
Courtesy Image