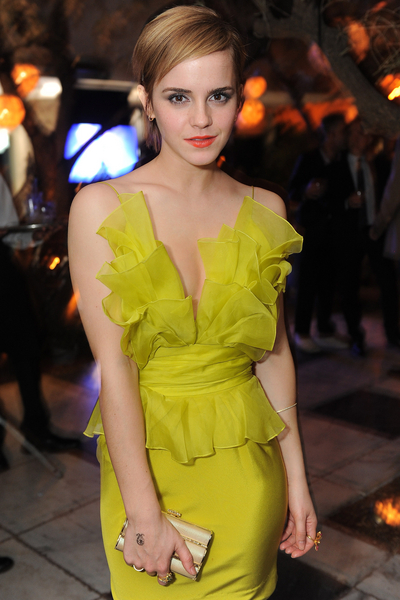 Photo: © Credit: © Jordan Strauss/WireImage
Emma Watson found it "completely different" to do her own makeup and choose her own clothes when she posed for a series of paintings.
The Harry Potter actress worked with artist Mark Demsteader on the new exhibition which will benefit the African charity CAMFED and Emma admitted being on such a low-key set where she didn't have a team of stylists and makeup professionals was a strange experience.
She told vogue.co.uk, "As it takes Mark several months to create the pieces, he finds it easier to work from photographs so I met him and a photographer for a day's photo shoot in north London back in January. It was a really simple shoot with just a single light to cast shadows. We took lots of pictures in a variety of poses and Mark went away and selected 30 or so to turn into paintings. It was a completely different photo shoot to anything I've ever done before. It was really low-key–I did my own makeup and just brought a selection of very simple dresses for the silhouette."
Although Emma is thrilled with the results, she was initially hesitant about taking part.
She explained, "I haven't really bought any art yet, even though I love it. So I contacted Mark about buying a drawing as a present to myself for my 21st birthday. When I emailed him he asked if I would let him paint me, and that was how the exhibition came about. I was slightly hesitant at first, not because I didn't want to work with Mark, but simply because I wasn't sure if I was comfortable with an entire exhibition of pictures of me!"


Try on Emma Watson's hairstyles in the Makeover Studio!