We loved Emma Watson's foiled eye makeup at the New York premiere of Harry Potter and the Deathly Hallows Part 2! Want to recreate this textured eye style on your own lids? Our friends at BellaSugar have the scoop.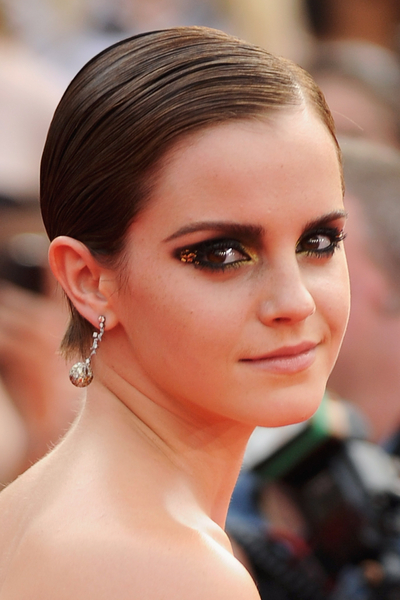 Photo: © Credit: Dimitrios Kambouris/WireImage
Emma Watson may have been tearful at the London Harry Potter and the Deathly Hallows Part 2 premiere, but at the New York premiere she was all smiles and this amazing gilt eye makeup. Foiled eyeshadow has been around for years now, but Emma's use of gold leaf as an accent at the outer corners of her eyes was unique and quite stunning. Plus, unlike foiled lids, this look is a lot easier to wear all evening without tons of touch-ups.
See how gilt eye makeup looks on you in the Makeover Studio!
This isn't an everyday look for most people, but if you have a special occasion coming up, it's not actually all that difficult, or expensive, to create. All you need is imitation gold leaf, a small acrylic brush, and eyelash glue. Put your base and shadow on, and then dip your brush in the glue and use it to dot on the gold leaf. Go slowly, because placement is really important. Once you have your gilt in place, do a little cleanup with an eye shadow applicator or something even smaller, like a lip brush or liquid liner brush.


Try on Emma Watson's hairstyles in the Makeover Studio!
More from BellaSugar
See All 14 Colors From The Kardashian Kollection
11 Stars Movie Hair Transofmrations
Get Your Glow On Safely


BellaSugar, a part of PopSugar Network, provides beauty junkies everywhere with a destination to learn what's hot in the world of beauty and skin care.