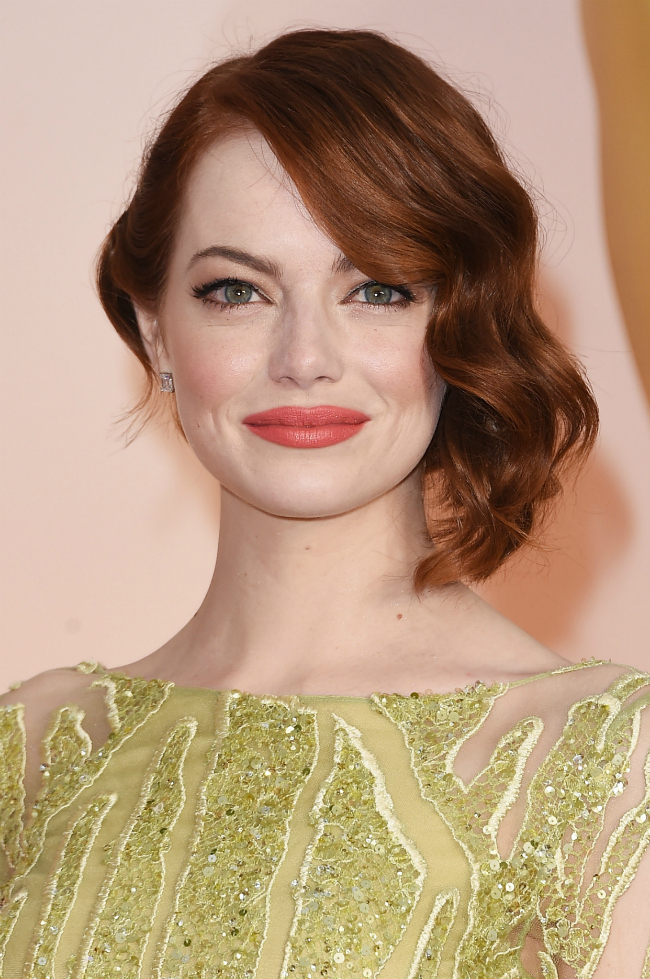 Of all the looks from the 2015 Oscar red carpet, we were the most stunned by Emma Stone's. The Best Supporting Actress nominee (and our imaginary best friend) looked insanely gorgeous in her chartreuse hand-beaded Elie Saab dress, which was complimented beautifully by her fresh, rosy makeup and a chic, asymmetrical curly bob.
We're so obsessed with her lookthat coral lipstick especially!that we reached out to her makeup artist (who is ONLY the incredible Rachel Goodwin) to find out how we can recreate it."The look I designed was a complete response to the color of her dress, which is an amazing green," said Goodwin. "I really wanted to let the color speak, but with a fun, unexpected twist, so I chose a beautiful, peachy-coral lip to complement it. Her look is soft and ethereal, with the total feeling of spring."
Let's break down her 2015 Oscars makeup!
Face.
Rachel began with some majorly luxurious TLC for Stone's skin: Chanel Hydra Beauty Micro Serum ($110) intensively moisturizes, plumps and smooths skin. She then prepped Emma's complexion withRevlon Photoready Prime + Antishine Balm ($11) to extend the wear of her makeup, layeringChanel Perfection Lumire Long-Wear Flawless Fluid Sunscreen Makeup ($58) in shade 10 Beige overtop. We love that this foundation is both gorgeous AND has the added benefit of a great SPF, without the drama of reflecting white under camera flashes, as so many sunscreen-containing products do. Chanel Powder Blush in Angelique ($45)swept from the apples of her cheeks up along the cheekbones added the perfect amount of coral-pink flush to her cheeks without overpowering her fair complexion.
Eyes.
Goodwin kept the eyes simple but striking:Chanel Limited Edition Lumires Facettes Quadra Eye Shadow ($59) provided beautiful, creaseless color, whileChanel criture de Chanel Eyeliner Pen($35, and absolutely ESSENTIAL for the easy to use magic marker-style tip) in Brun gave definition to Stone's blue-green peepers. The look was completed with Revlon PhotoReady 3D Volume Mascara ($8) in black for lashes that won't smudge, run or wear offessential for awards show realness.
Lips.
In a sea of near identical red lipsticks, this was the coral that launched a thousand ships. Goodwin used Revlon Ultra HD Lipstick ($8) in HD Tulip after lining Stone's lips withChanel Precision Lip Definer in Rouge Candy ($31). When doing bright lips, it's essential to coordinate your liner and lipstick perfectlynobody wants an accidental two-toned mismatch!
Brb, doing this exact makeup every day of our lives forever.
Emma Stone may not have won the Academy Award, but she was definitely our beauty champion of the night. And not only did she look gorgeous, she also seemed to have a great time. Proof: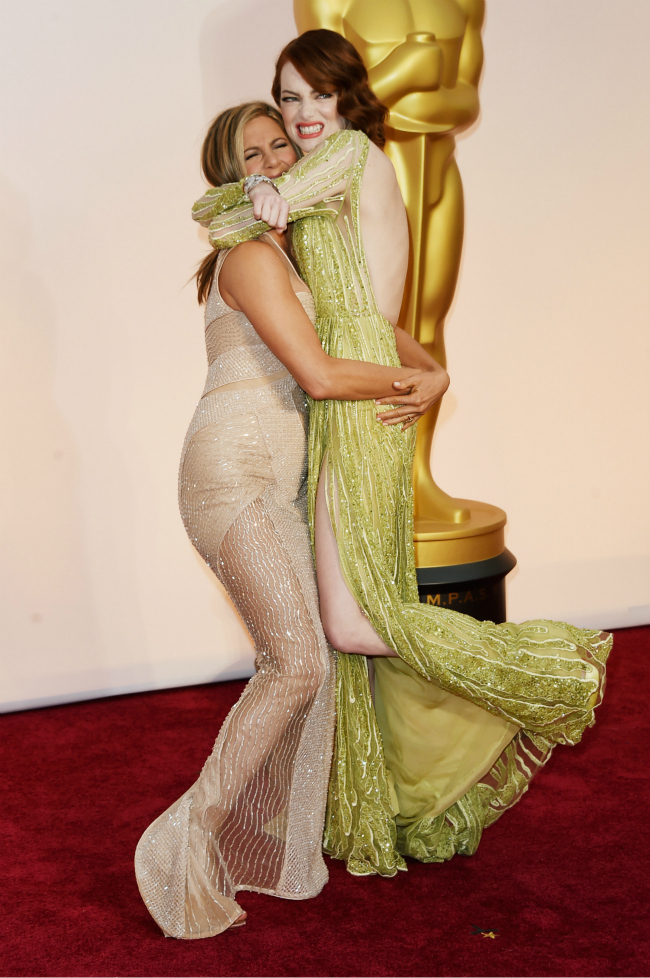 And really, who HASN'T thought about tackle-hugging Jennifer Aniston at some point? We love you, Emma.
Read more: The Best Celebrity Hair and Beauty Looks of the 2015 Academy Awards