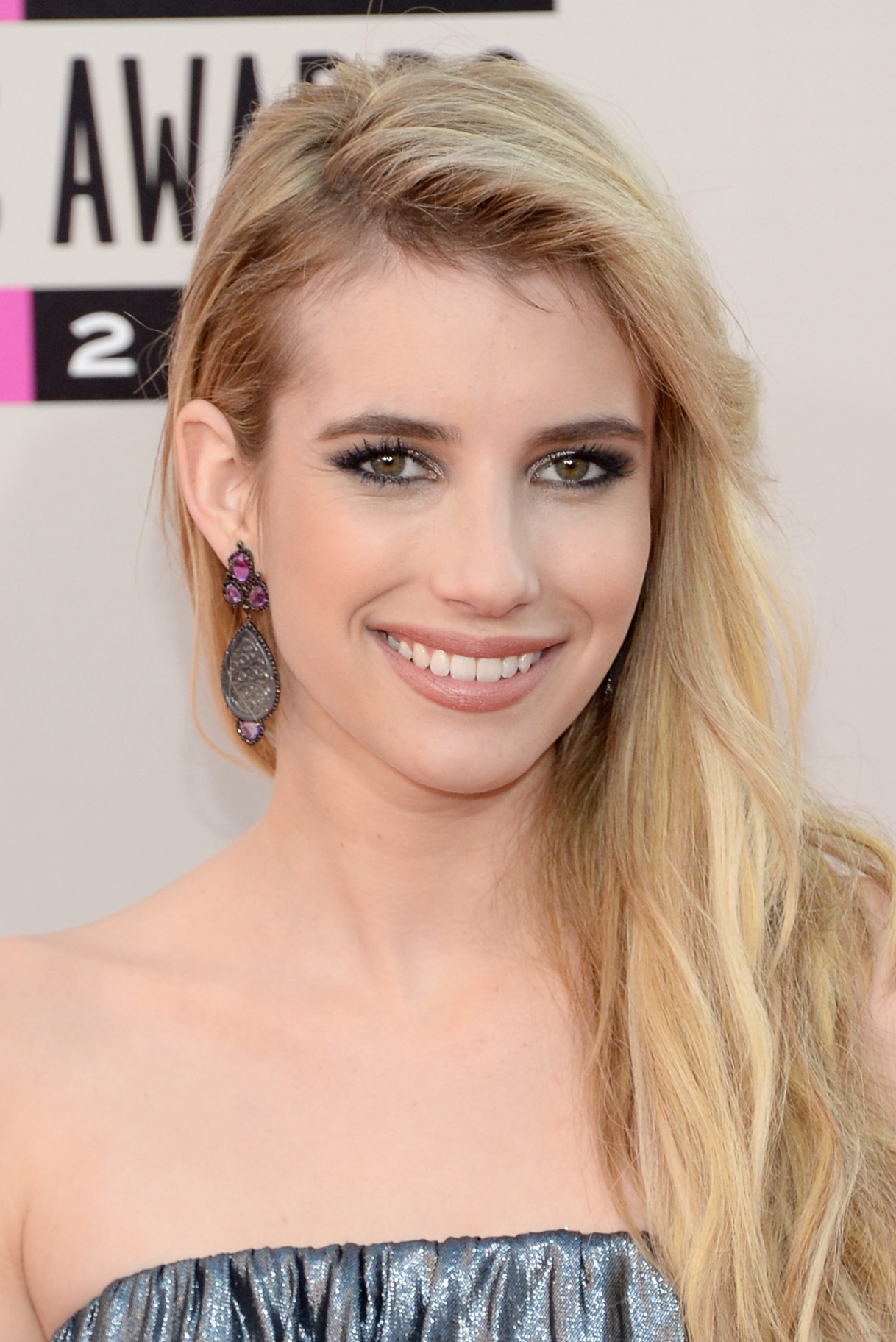 Besides landing a role on one of TV's most buzzed-about shows — and subsequently becoming the subject of one of the most popular GIFs to hit Tumblr — Emma Roberts knows how to work a red carpet. The 22-year-old, a Neutrogena Talent Ambassador, is a constant source of red carpet makeup inspiration with her lush lashes and bold eyeshadow looks.
We caught up with the "American Horror Story" actress to learn about her favorite holiday makeup looks, upcoming projects and, of course, what she really thinks of that "Surprise!" GIF (see below!).
Beauty High: Considering you're constantly in and out of makeup chairs and on the red carpet, how do you keep your skin from having a major meltdown?
Emma Roberts: The best tip I know is to take off makeup after work. I work 12-15 hour days on set and it can definitely get wearing, so I use Neutrogena Makeup Remover Cleansing Towelettes and take off my makeup right when I get home and get into bed. As much as I'm exhausted, even if I get home at 2 a.m., I still drag myself out of bed to clean my face.
MORE: 101 Celebrity Beauty Secrets to Steal
What's the best makeup tip you ever picked up on set? 
Never do a smokey eye with a dark lip — pick one. If you're going to do one, keep the other clean. I always tend to want to do the eye, and I use the Neutrogena Healthy Volume Mascara for amazing lashes.
With all the holiday parties coming up, what's your go-to makeup look? 
For the holidays, I really want to try out a really strong lip. Lots of mascara, with a clean lid, then one of the Neutrogena MoistureSmooth Color Sticks. Rich Raisin is this great wine color and it's really cute for the holidays. The lip is something that lasts through the night, and you won't have to keep reapplying eyeliner at one o'clock if you're wearing lipstick instead.
Are you making any resolutions for yourself for the New Year?
I keep meaning to, but I keep forgetting! I started my resolution to really start working out more, I'm doing more yoga for my mind, and having a more positive attitude into my life. Working on "American Horror Story" has been hectic.
You've got one of the best reading lists on Instagram. What's next on your book list?
I just packed my books for vacation! The one book by Ava Gardiner, The Secret Conversations, I've been reading 30-50 pages a night of it because it's so amazing. The Shining I'm going to start next for a creepy winter holiday read. I really wanted to read the new one to come out, but I have to read that first. And then, I have a book, Save the Cat, about screenwriting that's something different than what I do. I read so many scripts, I want to know how it all comes together. My girlfriend and I want to start writing, so I'm reading that now.
That's amazing! Do you have any other projects coming up that you can tell us about? 
Right now, finishing "American Horror Story," then I have a movie directed by Gia Coppola called "Palo Alto" with James Franco. I fell in love with James' book before the movie was announced, but I was like, "I have to be in this! I have to be part of this movie." In February, I'm going to start a movie called "Adult Work," which is a coming of age story with John Cusack and Evan Peters. That one is really special.
MORE: Emma Roberts Goes Long and Blonde
Have you seen the GIF of you saying "Surprise, b*tch"? Because it's quickly becoming the Internet's favorite GIF.
Oh my god, yes. I've been trying to think of a way to redo it, but I was fooling around trying to remake it, like I was in my trailer and my outfit had some dead giveaways on it, so I couldn't post a video. Even my little sister saw the GIF, and she's like, "Emma have you seen your GIF on Tumblr?" She's 12. I don't think I'll be able to top it this year. 
Image via Jason Merritt/Getty Images