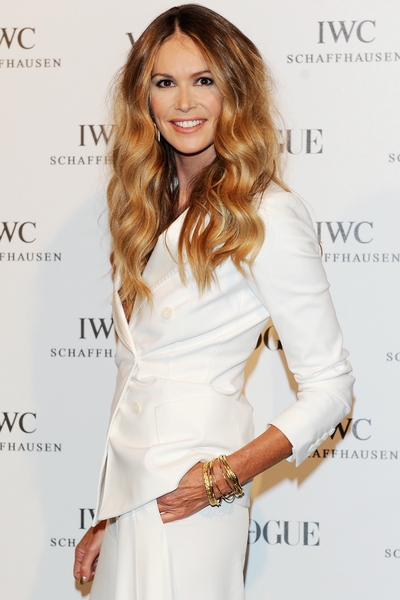 Photo© Stefania D'Alessandro/Getty Images
Elle Macpherson and Heidi Klum's all-out brawl over the nickname "The Body" has just spilled over into prime time television. Macpherson is confirmed to host NBC's reality design competition, Fashion Star.
Try on Elle Macpherson's hairstyles in the Makeover Studio!
The premise may sound familiar: 12 aspiring designers duke it out on a runway to win a cash prize and their own line. You know, like on Klum's hit series Project Runway. But differences between the two shows can be measured in celebrity weight (not a Jessica Simpson joke, although she is a judge) and millions of dollars.
While Project Runway's winner received a spread in a major U.S. glossy and $100,000 to start his own fashion line, Fashion Star is dealing out a multi-million dollar contract and launching the winner's clothes in top department stores across the country. Think of it as the X-Factor to Klum's American Idol.
"It's the talk of New York. Elle has spent a lot of time in America working on Fashion Star and a move is in the pipeline," explained a source. "But Heidi is determined that Fashion Star doesn't eclipse her own Project Runway."
Macpherson was expected to replace Sarah Murdoch as the host of Australia's Next Top Model, since the Aussie already hosts the British version of the model search. Now that the supermodel won't be stepping in for Rupert Murdoch's daughter-in-law, names like Elizabeth Hurley, Alyssa Sutherland, and Kristy Hinze have all been thrown around.