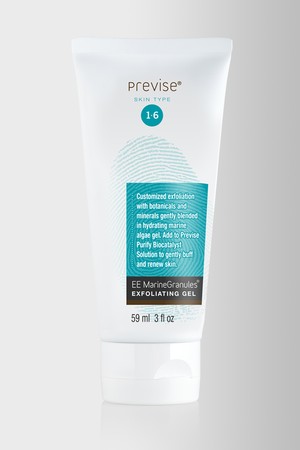 The alphabet cream trend began with anti-aging and moved to beauty balms, color correction and then define and diminish, but the next product to swoop onto the market is the EE product. Not that we're especially surprised that beauty companies have continued their way down the alphabet, but we can't believe it's gone on so long. EE creams, their benefit being extra exfoliation, will be launched in March of this year by the company Previse Skincare.
MORE: Your Guide to BB Cream, Plus What You Need to Know About CC and DD 
"The idea sprang out of the fact that most of our patients and clients have tried, sampled and used these electronic cleansing devices, and I know they have gone very well," Sean Patrick Harrington, founder and chief executive officer of Previse, told WWD. "Clarisonic has taken over the marketplace in many ways." While the Previse Skincare EE MarineGranules are designed to be used as skin care, not makeup (which all of the previous alphabet products have been used for), the company decided to hop on the letter train as a way to market the product.
Do you think EE creams are taking the trend too far? Tell us what you think in the comments below! 
Image via WWD
[WWD]