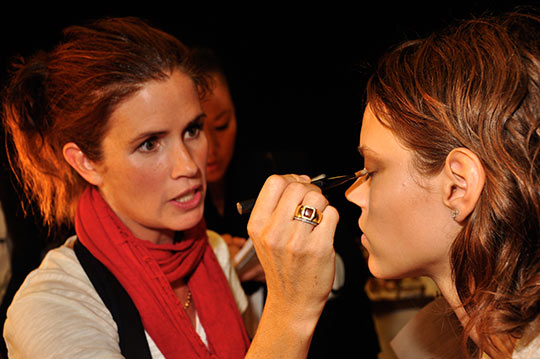 Gucci Westman works her makeup magic
Photo: Nathan Bush
Hair and makeup backstage at Rag & Bone drew inspiration from Edwardian times and created a look that was both proper and slightly mussed up.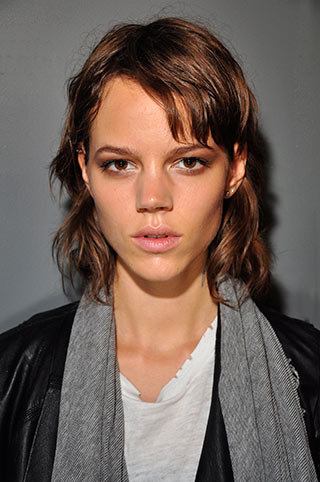 The finished makeup look
Photo: Nathan Bush
"I'm creating highlights and shadows on the whole face," said Revlon lead makeup artist Gucci Westman of the look. She layered a cream shadow and a shimmering gold shadow close to the lashes to intensify the natural highlight around the eye, then used a dark brown matte shadow smudged underneath the lower lashline and over the entire lid.
Skin was "supple and shiny" with a combination of concealer where needed and highlight all over. Lips were "non-descript" with Westman using a matte nude shade she had created to take away the natural redness in models' lips. On the cheeks she created a natural flush by lightly dabbing the tips of her finger in Cream Blush in Blushing Mauve and blending into the skin for a very subtle flush.
Hair was anything but subtle as Frdric Fekkai lead stylist Teddy Charles went for a full and textured look. He spritzed hair heavily with Coiff Ocanique Tousled Wave Spray then rolled and crimped hair in a tight fist to make it piece-y.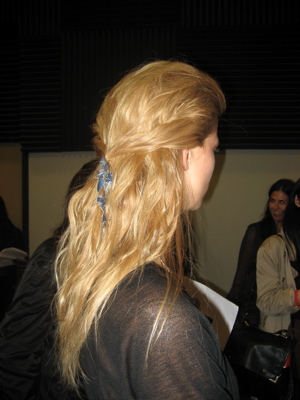 This style had lots of volume but
was still quite refined
Once hair had achieved the desired texture, he backcombed it to make teased, messy tendrils and sprayed it with hairspray to hold. Charles wasn't looking for a shiny, polished finish, so he made models hair even more matte by applying Au Naturel Powder Clean Dry Shampoo throughout. He then pulled the sides of hair back to create a loose, half-up hairstyle. For the finishing touch, each model's hair was tied off with a remnant scrap from the collection — it created a slightly equestrian feel to the overall style that nicely complemented the updated Edwardian theme.