It's a near universal problem: you are consumed with a firey passion for a particular beauty product that you have to have. You track it down, wear it once, and…you never use it again. This is how overly-cluttered vanities and bathroom sinks groaning under the weight of hundreds of barely used lipsticks happen.
Well, get ready to say goodbye to all that. Now there's a site, eDivv, solely dedicated to trading (as well as selling and buying) beauty products you don't need. Pretty genius, right? We caught up with eDivv's co-founder and CEO, Casey Casterline, to learn more about the innovative community she's grown over the past year.
Why did you start eDivv? What did you think the beauty world was missing?
I was an early adopter to subscription boxes. You'd open it and be surprised and happy. Then you'd think to yourself, "Wait, I'm not going to use that green nail polish." I ended up with a pile of stuff I was never going to use, and I felt bad about throwing it away. I went online and there were all these blogs, forums, women making Pinterest boards of things that they had or things that they wanted. There were Facebook groups. There's a Reddit forum just for makeup trading. So there were all of these pockets of the web that existed, but there wasn't one community to bring all of these people together. We believe that we not only make trading, buying and selling safe, but there's a community built around all of our users.
Is there a lot of interaction between the community? Or is it more about the trading?
There definitely is a lot of interaction. When you're sending someone something, it's a very personal thing. I would say that more than half of the people that do trade on the site, they send little extras or a note. You're trading with a stranger, but we like to think of it as your friend that you haven't met yet. They have the same love for beauty as you. So we've seen relationships build off of that.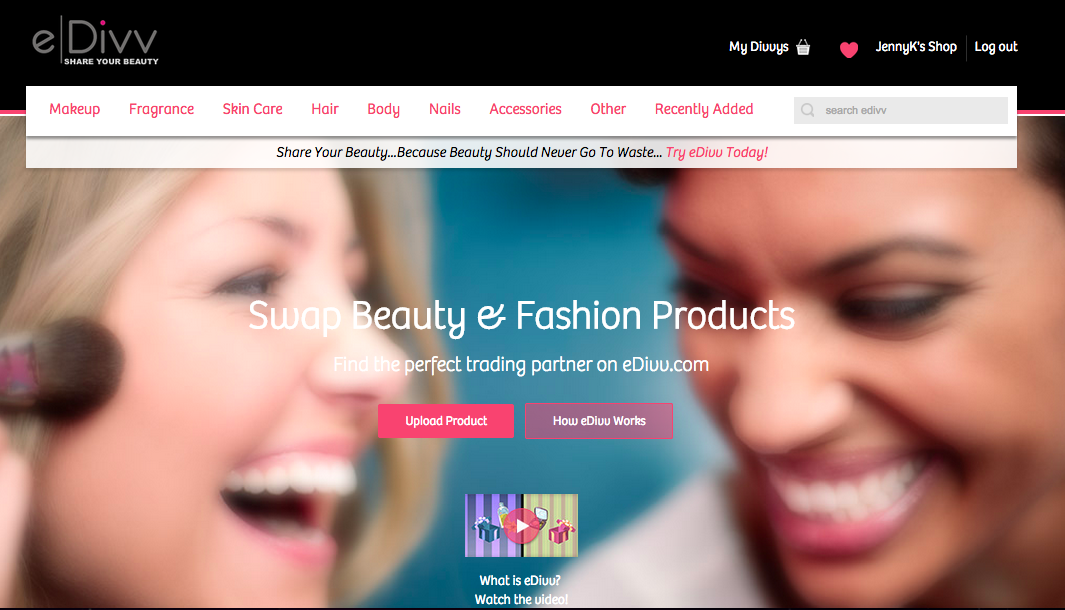 Do you regulate what's being posted?
We intervene any time there's an issue. We also have a lot of security checks in place along the way—similar to eBay. But we certainly get involved. We have high customer service that looks into everything. Everyone on the site has to import tracking and things along those lines to ensure that everyone has a good experience.
How many users do you have?
eDivv has about 10,000 users who have uploaded over 130,000 products. So that just goes to show you how many extra beauty products are out there and why there's a need for this community!
What are the most popular brands women trade?
The top five brands that are most sought after are M.A.C., Benefit, Tarte, Urban Decay and Too Faced.
What's up next for the site?
When we started we were solely trading, but we found out that our users also want to buy and sell. We're also making the dashboard more customized by curating the the products you're most interested in. We're also doing something to make the upload process easier. We're fixing and updating a lot of the features we already have to make it a better experience.
What did you do before starting eDivv?
I graduated from Northeastern and I thought I was going to law school. I got involved on a small level with a startup, and that's what got me thinking about starting my own business. I'd always been really into the beauty industry. So when I saw this opportunity I was able to use all of the things I learned along the way. It's been a really exciting journey so far.
Read more from Daily Makeover: Scentbird: The New Way to Buy Designer Fragrances