Caroline Murray, Assistant Editor
This summer is going to be sizzling, not only because of the fab weather, but because I'm (finally!) going to conquer oily skin and save time on my beauty routine. Here's how: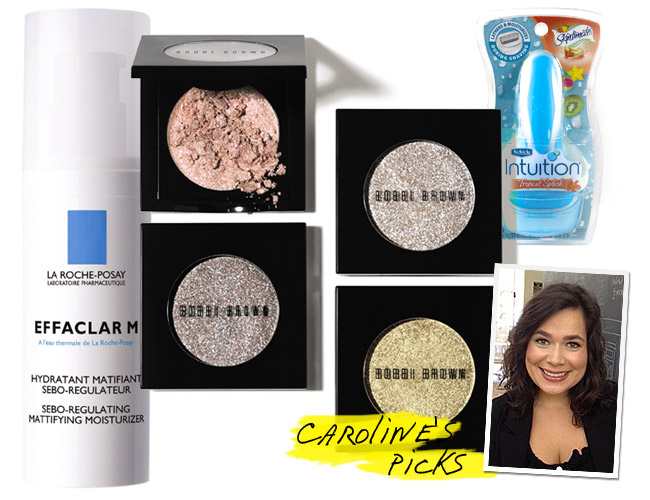 Photo: Daily Makeover
1. La Roche-Posay Effaclar M Daily Mattifying Moisturizer
As someone who suffers from oily skin, I'm always on the lookout for a moisturizer that'll leave my skin feeling hydrated, without adding an oily-residue. That's why I love La Roche-Posay Effaclar M Daily Mattifying Moisturizer ($31, Walgreens.com); it contains a micro-exfoliating agent that helps normalize pores and prevent shine, so my skin doesn't look oily. Exactly what I need as the hot weather approaches!
Get Kristen Stewart's Silver Smoky Eye
2. Bobbi Brown Sparkle Eye Shadow
When it comes to summer, I don't ever want to feel like my makeup is heavy. I always opt for lighter foundations and lip glosses when transitioning into warmer weather, and this time I've found that perfect eye shadow too. Bobbi Brown Sparkle Eye Shadow ($28, Nordstrom.com) is a featherweight formula with a dash of glitter and a whole lot of shimmer. The colors go on super sheer, so whether you wear it on its own or to boost a bolder shadow, this will give you a gorgeous, summer glow without it feeling caked on.
3. Schick Intuition Tropical Splash
Did you know that when a woman is rushing, the first thing she'll cut from her day is her beauty routine? To be honest, I'm in a rush a lot, so I'm usually in desperate need of quick beauty gadgets. That's why I love Schick Intuition Tropical Splash ($9, Drugstore.com). This razor is designed to moisturize while you shave, which means I don't need to apply shaving cream first. That's an extra two minutes every morning I can use to do something else!
Editorial Assistant Shannon's Picks >>