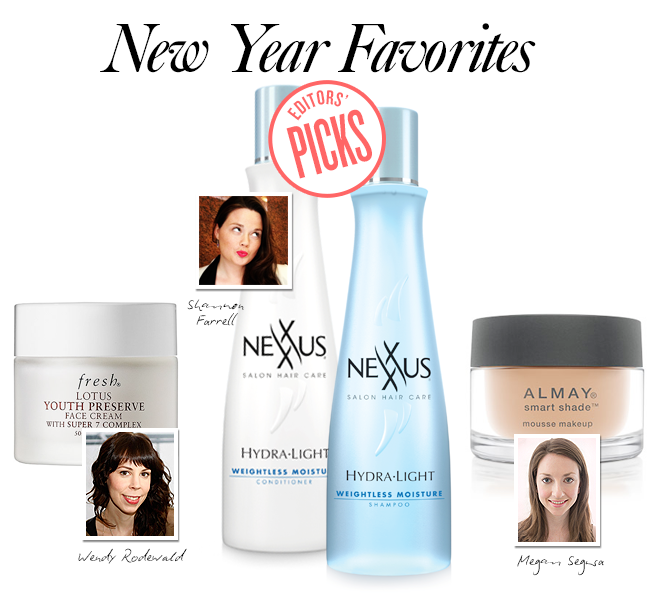 New year, new beauty products. From the drugstore to the beauty counter, 2013 has already seen tons of launches. We've sorted through all of them to bring your our personal favorites — so far.
Wendy Rodewald, Senior Editor
Fresh Lotus Youth Preserve Face Cream With Super 7 Complex ($42, sephora.com)
Fresh is a perennial beauty editor favorite for good reason: not only do the brand's products look good and smell good, they actually work. Case in point: this new face cream. I thought my skin was reasonably well-hydrated…until I tried this awesome, antioxidant-rich moisturizer, which made my face ridiculously soft. Fresh co-founder Lev Glazman said he wanted to develop a product that felt like sticking your face in a cloud — and I can't think of a better way to describe this cucumber-scented, non-greasy cream. Seriously, it's a must-try!
Megan Segura, Associate Editor
Almay Smart Shade Mousse Makeup ($13.99, drugstore.com)
I think BB cream became such a hit with everyone because it feels so good on the skin. Unlike foundation, it doesn't feel like makeup, and that's really important to me. Unfortunately, BB cream and tinted moisturizer doesn't always cover the redness around my nose and mouth, which is where Almay's new Mousse Makeup comes in. It has the buttery weightless texture of a BB cream, but with the coverage of a foundation. I am always amazed in the morning when it goes on white and then magically (or so it seems) turns darker to match my skin color exactly.
Shannon Farrell, Editorial Assistant
Nexxus Hydra-Light Weightless Moisture Shampoo and Conditioner  ($9,99 for shampoo, $14.99 for conditioner, nexxus.com)
Within 24 hours of washing my hair, my roots get greasy. But I also have dry ends in the winter months. You could say I have combination hair, not too different from combination skin. Enter my saving grace, Nexxus' new light moisturizing shampoo and conditioner. The set provides light hydration (and shine) without weighing hair down, nourishing strand by strand with deep sea minerals and antioxidants.
Read more: 10 New Drugstore Beauty Finds To Try Now