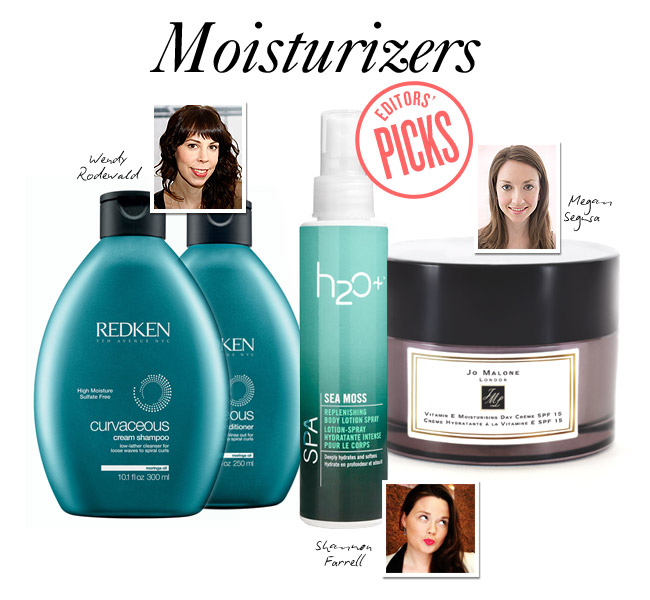 Like squirrels gathering acorns, your Daily Makeover editors are currently hoarding moisturizing products for the long, dry winter ahead. Here are a few of our favorite hydrating fixes for parched hair, face and body.
Wendy Rodewald, Senior Editor
Redken Curvaceous Cream Shampoo ($17) and Conditioner ($18, Redken salons)
It's the most wonderful time of the year, as far as my presently frizz-free hair is concerned. But the low humidity also means my curls are prone to drying out. Luckily, I've found Redken's new Curvaceous collection designed specifically for wavy to curly hair. The line's sulfate-free, low lathering Cream Shampoo cleanses my curls without stripping much-needed moisture. Its accompanying conditioner — which super-curly types can use as a leave-in — achieves what many curl-targeted conditioners attempt to but fail: It's truly lightweight but also does an amazing job detangling the dreadlock I always manage to get at the nape of my neck (please tell me I'm not the only one?). Both products get the job done with a complex of sugar polyol crystals, moringa oil, proteins and UV filters to nourish and quench the hair. And of course, because I wouldn't be using them otherwise, their scent is utterly intoxicating.
Megan Segura, Associate Editor
Jo Malone Vitamin E Moisturizing Day Créme SPF 15 ($65, jomalone.com)
My skin always needs a good daily moisturizer, but when the weather starts getting chilly, my face really needs a hero of a product, so I turn to Jo Malone Vitamin E Moisturizing Day Créme SPF 15 ($65, jomalone.com). This rich moisturizer protects my skin from drying out and cracking, which can lead to breakouts, and it also contains an SPF. Best of all, one of the main ingredients is Vitamin E, so it works to smooth away scars and the tiny wrinkles around my eyes. Plus, the Jo Malone stores are so chic that I never mind having to buy another jar when I'm out. How many drugstores can you say the same about?
Shannon Farrell, Editorial Assistant
H2O Plus Sea Moss Replenishing Body Lotion Spray (19.50, h20plus.com)
I know how important moisturizing is, but I just can't get myself to do it everyday. There is something about stepping out of the shower all clean and fresh, and then having to apply a sticky thick lotion that doesn't do it for me. That's why I am newly obsessed with the idea of a body lotion spray. H2O Plus just came out with Sea Moss Replenishing Body Lotion Spray that feels like a water spray, but hydrates like any other top-notch lotion. Aside from its blend of vitamin E and provitamin B5 for smooth skin, the lotion spray also has natural seaweed extracts that prevent aging (and even repair signs of aging).
Which moisturizing products are you slathering on this season?