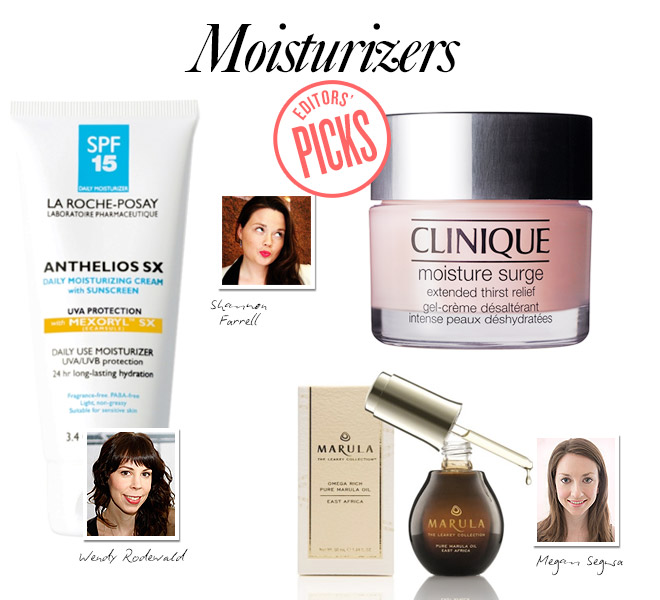 The dry winter air has us reaching for our favorite facial moisturizers that keep skin hydrated and soft. Here, we highlight our top three in this week's installment of Editors' Picks.
Wendy Rodewald, Senior Editor
La Roche-Posay Anthelios SX Daily Moisturizer ($31.95, laroche-posay.us)
A dermatologist recently reminded me that if you're mixing and matching products in a multistep regimen, you're confusing your skin with literally hundreds of different ingredients each day. I love that this fragrance-free, just-rich-enough moisturizer has sunscreen, too, which helps me simplify my routine. Its non-greasy formula soaks into my skin to leave a soft, natural finish — the perfect canvas for makeup.
Megan Segura, Associate Editor
The Leakey Collection Marula Oil ($78, marula.com)
I'm always terrified of a future breakout, so I generally stay away from face oils, but this is my one exception. Marula oil is full of antioxidants (more than argan oil) and omega fatty acids, so it keeps skin moisturized, even in the drying winter months. The oil soaks into skin quickly and never irritates it. I'm a big believer in smart packaging, which is another reason this stuff is my favorite. As you twist open the cap, the attached dropper fills with oil, so you get the perfect amount every time.
Shannon Farrell, Editorial Assistant
Clinique Moisture Surge Extended Thirst Relief ($37, Clinique.com)
My skin gets incredibly dry during the winter months, to the point that I stay away from any powders or bronzers. Right before bed, I apply Clinique's Moisture Surge Extended Thirst Relief all over my face. I hate lotion that feels wet on the skin, but this moisturizer dries quickly. By the time I get into bed, my skin is just a little dewy. When I awake, my face is so hydrated that I don't need to reapply and instead, prep with Heir Atelier Ultimate Make Up Prep ($38, Heiratelier.com) that provides light hydration.