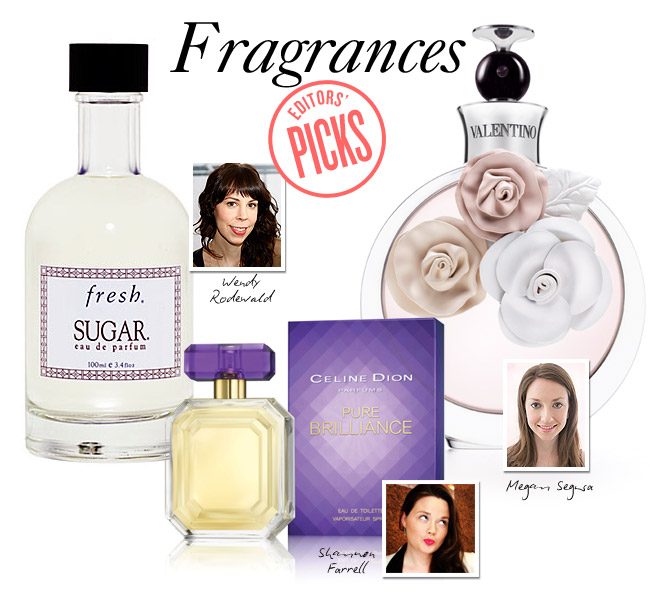 We're constantly spritzing scents in the name of research, but only a few ever make it into heavy rotation on our pulse points. Here, get a whiff of our current favorite fragrances.
Wendy Rodewald, Senior Editor
Fresh Sugar Eau de Parfum ($80, Fresh.com)
I can't imagine anyone not liking this scent, which reminds me of eating orange slices and shortbread for dessert. Its lightweight warmth, courtesy of a gourmand base featuring caramel, vanilla and marjoram notes, makes it just as perfect for fall and winter as it is for warmer weather. And I love how the fragrance's citrus top notes keep the sweetness from being overwhelming — great news for those of us long past the days of wanting to smell like a sugar cookie.
Megan Segura, Associate Editor
Valentino 'Valentina' Eau de Parfum ($80, Nordstrom.com) 
As much as I love beauty, I've never been much of a fragrance girl. I'm prone to migraines and always afraid the wrong scent will set one off, so I try not to experiment with too many. This past year, however, I was introduced to Valentino's eau de parfum, Valentina, and I fell in love.
The scent is warm and subtle with top notes of Calabrian bergamot and white alba truffle.  Other components in the fragrance are amalfi orange blossom, tuberose, jasmine and a hint of wild strawberry. If you prefer muskier perfumes over sweet, this fragrance might just become your new signature scent.
Shannon Farrell, Editorial Assistant
Celine Dion Pure Brilliance ($28, Kmart.com)
We play with designer fragrances in the office all the time, but my favorite, Celine Dion Pure Brilliance, isn't so luxurious. However, it was one of the first beauty products I got as an intern and has had a special place on my vanity ever since.
The perfume is a soft, fruity floral with notes of pear, apple, green leaves, honeysuckle and blonde woods. It's more of a day fragrance because of its subtle touch, but for a girl who likes a natural, girly scent, this does the trick.