With the sun setting earlier, models trotting down Fashion Week runways and TV actually getting good again, there's no denying it. Fall is here—and with it comes a whole new outlook on beauty. Right now, we're stocking up on these totally amazing drugstore finds to ease the transition. Have a look at our favorites!
Wendy Rodewald, Senior Editor
Just like you can stumble upon a brilliant fall wardrobe addition at a store like Zara or H&M (my favorite three-quarter sleeve coat is one lucky find!), you can uncover total gems in the beauty aisle—as long as you know where to look. Here are a few of my recent scores.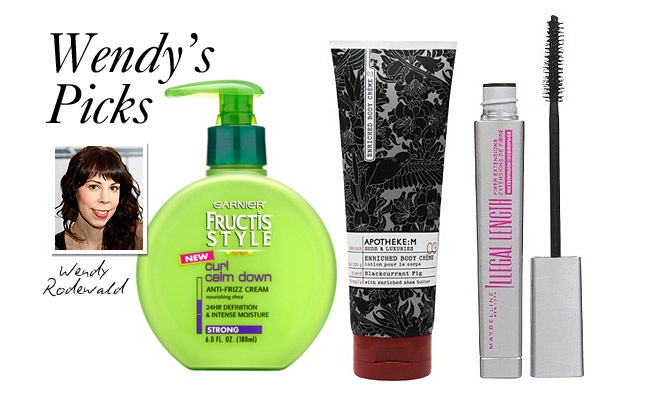 1. Garnier Fructis Style Curl Calm Down Anti-Frizz Cream ($4.29, Garnierusa.com)
My curly-wavy hair naturally calms down once summer's humidity dries up, but this cream with the consistency of a lightweight leave-in conditioner gives my strands much-needed moisture. Before blow drying with a diffuser, I finger-comb a couple generous pumps through my wet hair. The result? Perfectly defined spirals that are soft, never crunchy. I actually prefer this drugstore find to a whole collection of pricier hair products gathering dust on my shelf.
2. Apotheke:M Blackcurrant Fig Enriched Body Crème ($8.99, Target.com)
The very second a hint of fall crispness hit the New York City air, my skin went from soft and hydrated to completely parched. So I'm switching from my light summer moisturizer to this rich body cream, which feels as luxurious as its cool graphic packaging suggests. I still can't believe it's under ten bucks!
3. Maybelline Illegal Length Fiber Extensions Mascara ($8.95, Maybelline.com)
I test out new mascaras practically weekly (the perks of being a beauty editor!) and this is my current favorite. It works by building bits of fiber at the tips of your lashes to make them longer, yet somehow manages never to look clumpy. The formula also does an amazing job holding the crimp made by an eyelash curler—a must for my stick-straight lashes.
Megan Segura, Associate Editor
I receive beauty products  from all different price points, but it tends to be the basic drugstore staples that I keep going back to. To combat the colder weather that will soon be headed our way, I need items that will help moisturize, restore and balance.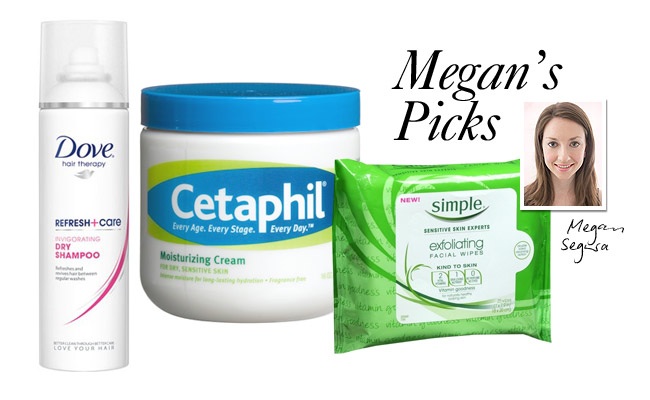 1. Dove Refresh + Care Dry Shampoo ($4.49, Walgreens.com)
Dry shampoo is basically the best thing since sliced bread. It's a lazy girl's saving grace, and I own about 10 cans of the stuff. I use Dove's version on second-day (and third-day…) hair to soak up any oil at the roots and give it a little volume. I feel like unwashed hair smells like I've been running outside for a few hours, so I love that this product's amazing scent hides the fact that I skipped the shampoo.
2. Cetaphil Moisturizing Cream ($10.79, Drugstore.com)
I know a lot of people who use Cetaphil products, but I never did until very recently. I started using their moisturizing cream as a body lotion and fell in love. It's a thick, creamy formula but absorbs very quickly, plus it doesn't have a scent, which means I can really slather it on.
3. Simple Exfoliating Facial Wipes ($6.49, Walgreens.com)
As much as I love makeup, I hate the feeling of it on my skin. Don't get me wrong: I won't leave the house without wearing it, but the second I step foot in my door, I take it off. I've been using the Simple makeup-removing wipes every day. I use the textured side to scrub my face and the soft side to remove eye makeup. As the brand's name suggests, there aren't any harsh ingredients in this product, so it strips off makeup without leaving my face feeling tight and uncomfortable.
Shannon Farrell, Editorial Assistant
I'm not ready to welcome fall. After spending half of my summer indoors on crutches, I feel like it should only be early August. But fall weather and fashion are upon us. To transition, I've turned to my favorite drugstore products that provide a much-needed hair detox and pack a little color punch.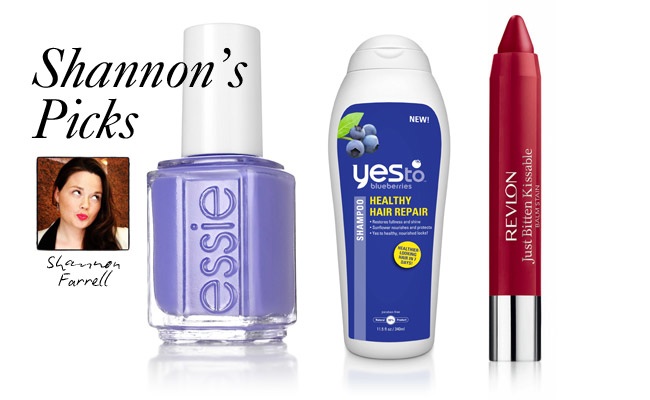 1. Yes To Blueberries Healthy Hair Repair Shampoo ($7.99, Yestocarrots.com)
Every season my hair needs a repair job. This summer was no different. I may have stayed out of the sun, but I highlighted my strands early in the summer and heat styled my hair every day. Formulated with natural ingredients, such as clover flower and sunflower, this new shampoo mends damaged strands as well as restores shine and protects against future breakage by strengthening each individual hair. Some breakage is inevitable, but I've definitely seen a difference!
2. Revlon Just Bitten Kissable Balm Stain in Romantic ($8.99, Drugstore.com)
Time to put the fuchsia and orange lipsticks in the back of the drawer and throw some darker shades in your purse. A great mellow color to try first is this Revlon balm. It's a glossy red that isn't super pigmented, so it gives you some color without an overly bold statement.
3. Essie Yogaga Collection in Boxer Shorts ($7.79, Target.com)
Deep reds and nudes are filling the nail polish racks this season, but I'm not ready to let go of fun vibrant colors. Essie's Boxer Shorts from the Yogaga Collection is the perfect summer-to-fall transition color. This sky blue with a hint of lavendar is soft enough to blend in with fall's muted colors, yet bold enough to satisfy my color craze.
What drugstore beauty finds are you loving right now?