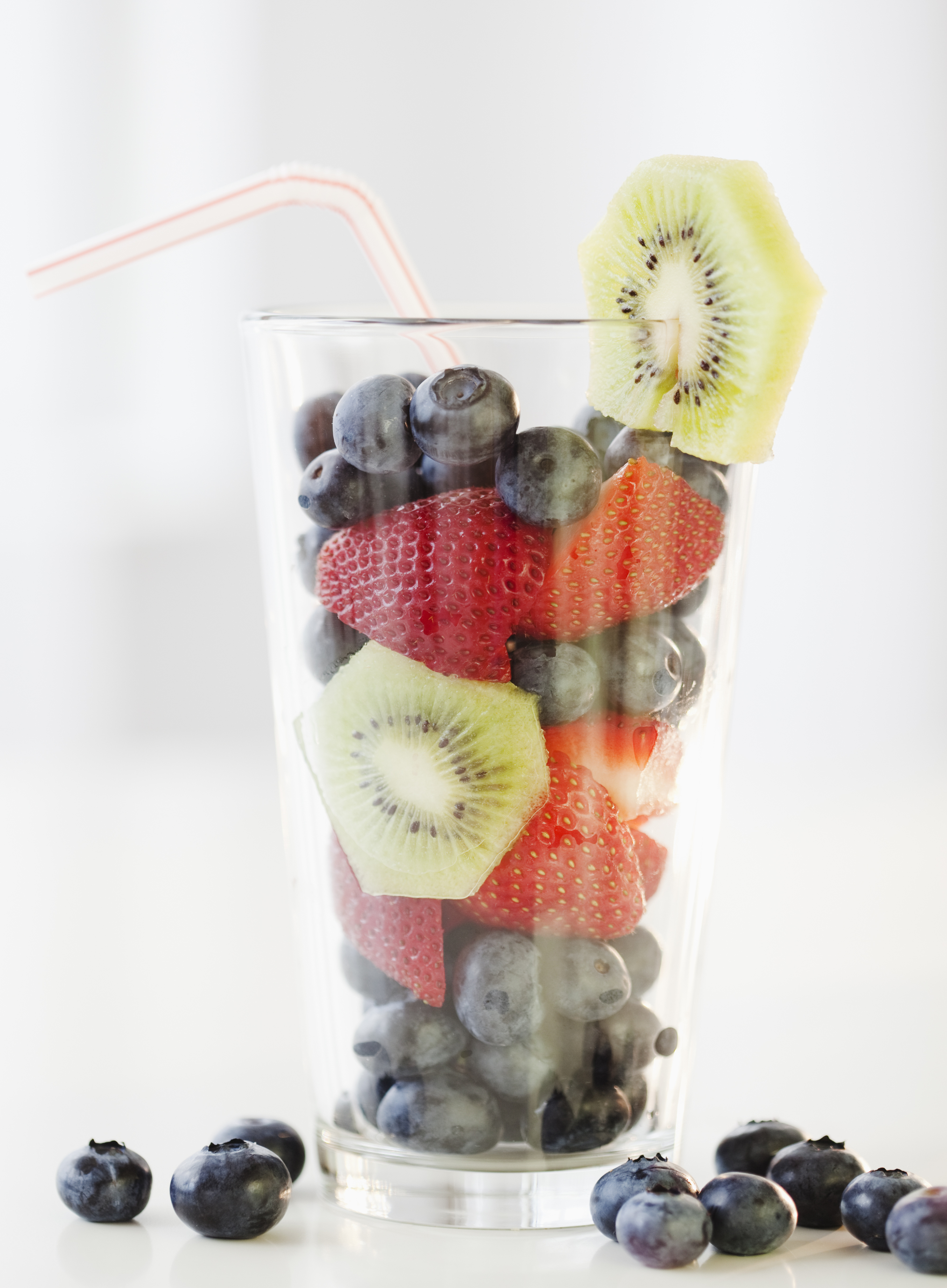 Sometimes, no matter how many creams, masks and face washes you use, your skin just won't glow. If this is the case (as it so often is), it's likely that your diet needs a bit of an adjustment. Besides drinking enough water each day, there are certain foods that will help to get your skin on track.
To help you get glowing skin in a busy world (who has time to cook these days, anyway?), we've put together three simple recipes that will help get your skin glowing. Your breakfast, lunch and dinner are covered with the meals below!
MORE: How to Get Glowing Skin in 10 Easy Steps
The Super Berry Smoothie 
Berries are packed with antioxidants and vitamins A and C, which all help to make your skin glow. Plus, this smoothie also has coconut and flaxseed oil and raw honey, so you're really working every angle.
What You'll Need:

1/4 cup blueberries
1/4 cup blackberries
1 tablespoon liquid coconut oil
1 tablespoon flaxseed oil
1 teaspoon raw honey
1 raw egg
Blender
Start by washing all of your berries, then begin by cracking a raw egg into the blender (this way, if you accidentally get any shells in the blender, you can get them out before other ingredients are added). Pile in berries, then coconut oil, flaxseed oil and honey. Blend until the smoothie consistency is smooth and creamy, and drink up!
Arugula and Tuna Salad 
Keep away from processed foods that are hiding tons of sugars and fats (AKA skin ruining ingredients) and stick to simple salads with tons of flavor. Fish is packed with omega-3 fatty acids that are fantastic for skin, and arugula gives you enough vitamin A to make you really glow.
What You'll Need:
Arugula
1 cutlet of tuna
2 tablespoons olive oil
Fennel seeds
1/2 tomato
Sear the tuna brushed with olive oil on a very hot grill brushed, heating each side for about 90 seconds or so. Once it's cooled down, slice up the tuna and lay onto a bed of arugula. Add mix in fennel seeds and a sliced tomato, mixing the rest of the olive oil onto the salad as dressing.
Brown Rice Meal 
Over-processed, refined carbohydrates are absolutely terrible for your skin, but that doesn't mean all carbs are bad. Whole grains and complex carbs help your body to digest more slowly (and effectively), plus they don't cause the insulin spike that happens when you eat white bread. Mixing brown rice into a bowl of help-your-skin-glow veggies makes for a perfect meal.
What You'll Need:
1 cup brown rice
1/2 Avocado
1/2 Tomato
1/4 cup black beans
2 tablespoons olive oil
1/4 clove garlic
Cook your brown rice and black beans (separately) until tender. Slice up the avocado and tomato, heating them up in olive oil on the stove. Dice up your garlic and add into the avocado and tomato mixture, then mix together all of the ingredients, pouring extra olive oil over the top. Your skin will be glowing in no time!
Image via Jamie Grill/Getty Images