With Halloween quickly approaching, it's possible you may not be able to make it to the nail salon in time. However, that doesn't mean you still can't rock some some scary nail art. These looks from Instagram are not only some of the best Halloween nails we've seen so far, they're also some that are among the easiest to do at home. For any of our last-minute ladies, this easy Halloween nail art is a must!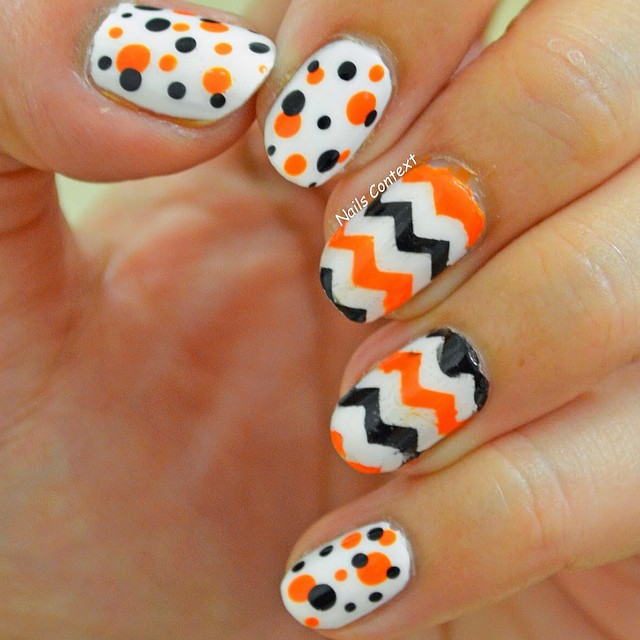 You don't have to be a professional to recreate this awesome look by @nailscontext. All you need is a striper brush and some white, orange, and black polish. Paint the base of your nails white, adding a chevron design to some, and polka dots to others!
MORE: Halloween Nail Polish Colors to Complete Your Costume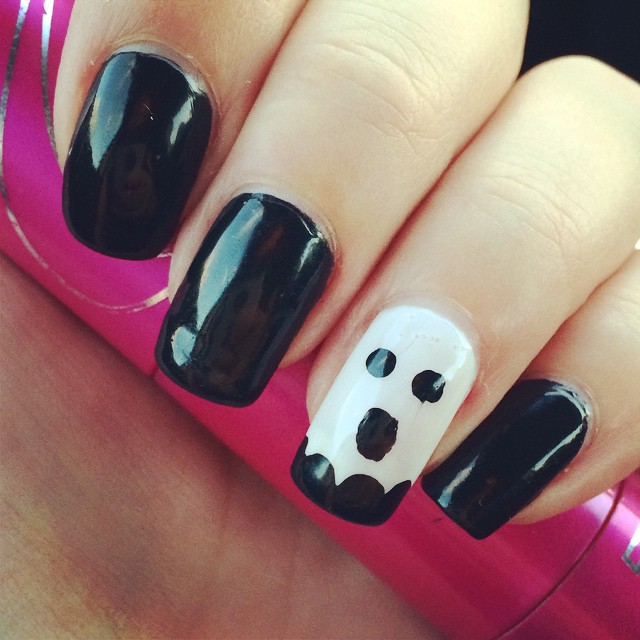 If you can draw circles and curved lines, this nail look by @sandra_rizo will be a piece of cake to recreate! Paint all of your nails black, except for the accent nail of your choice which will be white. Then draw two circles for the eyes, one for the mouth, and create a wavy black tip!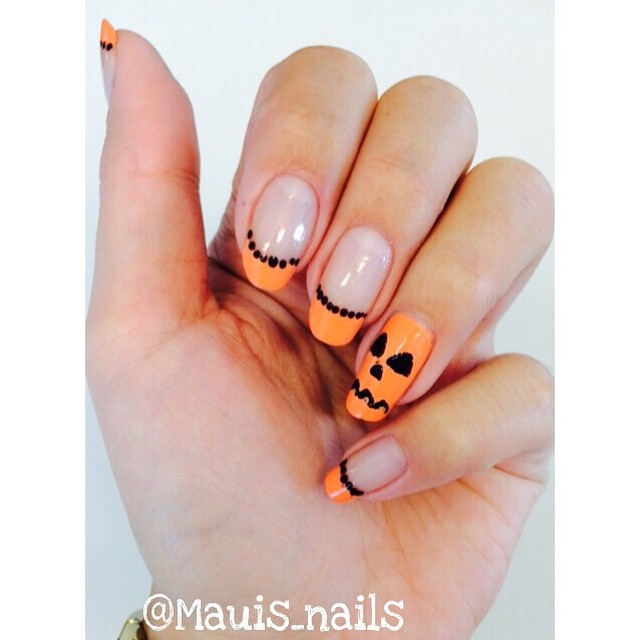 These pumpkin nails by @mauis_nails are too cute not to be on our list. All you need is some clear and orange polish, and to create an orange tip along four of your nails like a french manicure. Dot black polish right below the orange tip, and paint the fifth nail orange, and create the pumpkin's face!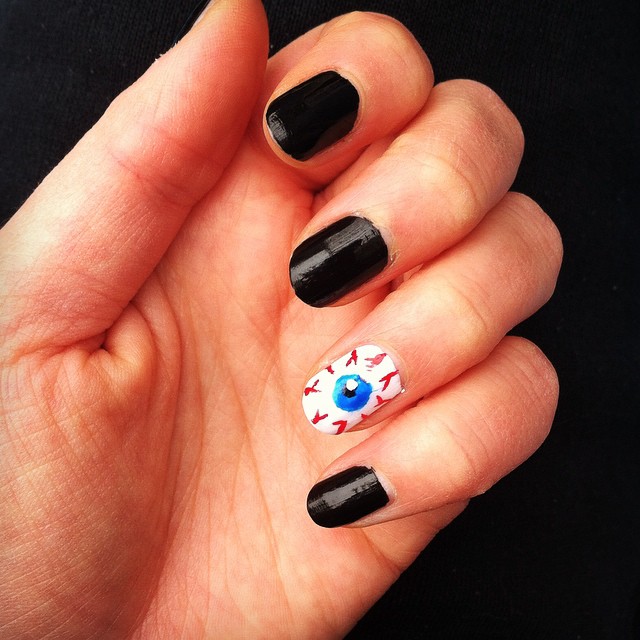 Although we felt like these nails by @mowrguane were watching us, we couldn't take our eyes off them either. To create this eye just draw red lines around the outline of your nail to create veins, and paint a blue circle with a black and white dot in the middle for the eye!
MORE: Halloween Nail Designs to Immediately DIY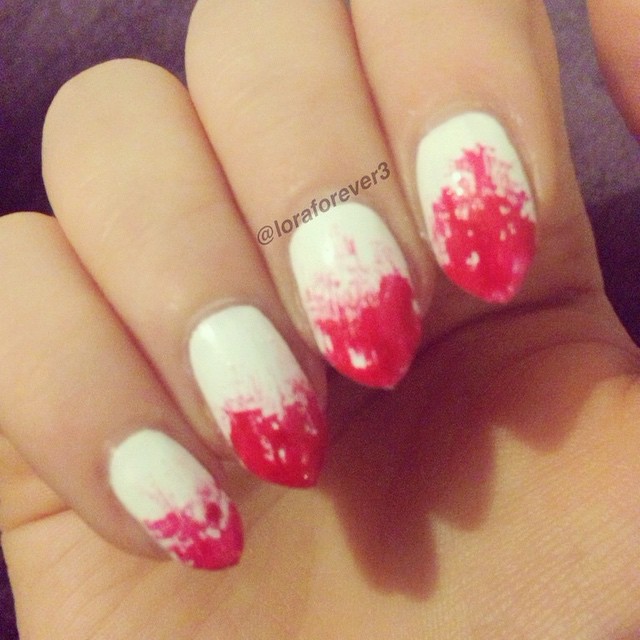 So easy and so holiday appropriate, do what @loraforever3 did and just messily apply some red polish to the tips of your white nails for the perfect blood-splattered look.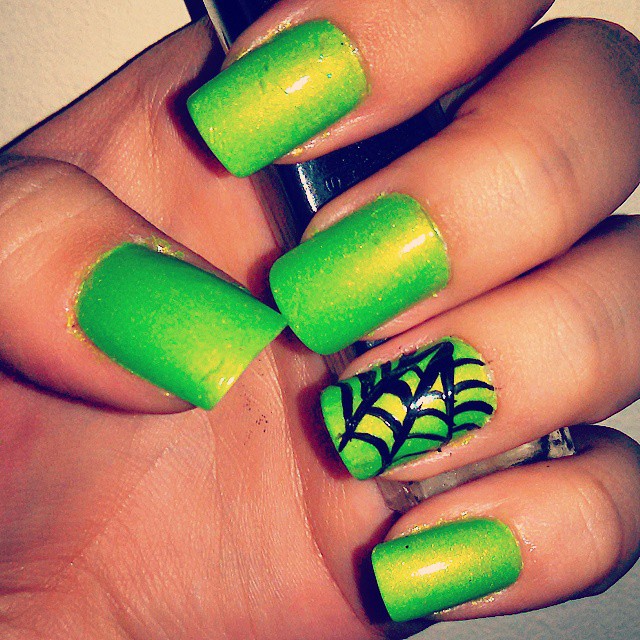 While this nail art by @lonestar103 may look tricky, it's actually a fairly easy web to weave. Just grab your favorite green polish, and for the accent nail, if you look closely at the spider web you'll see it's just made up of simple line work!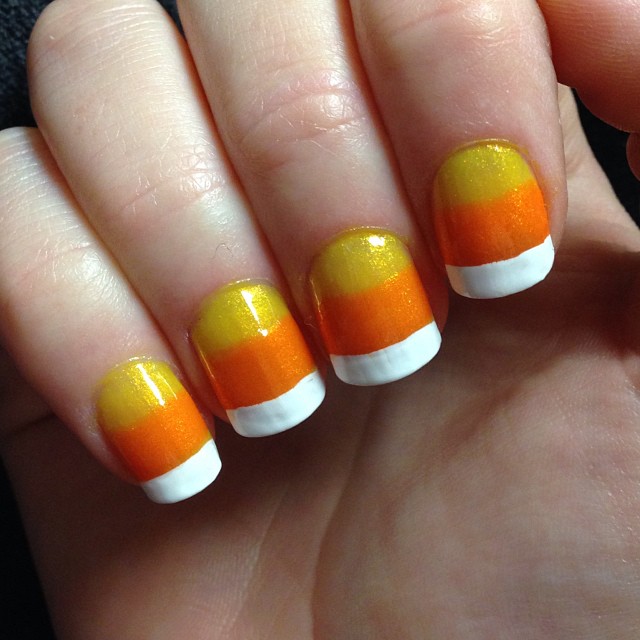 The perfect Halloween twist on a french manicure is these candy corn nails by @jaclynbarrett. Divide your nails into three sections, painting the bottom half yellow, the middle orange, and the tips white.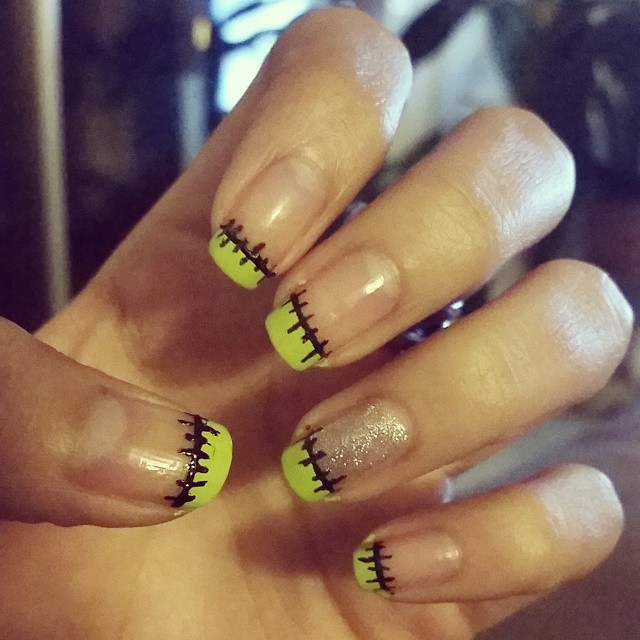 Thanks to @vanessa8616, Frankenstein's style never looked so cute!  To recreate this look, paint your nails clear with lime green at the tips. Grab your striper brush and paint a horizontal black line right below the green tip, then draw tiny vertical black lines to make your stitches! For a little extra something, add a bit of glitter polish to a nail or two.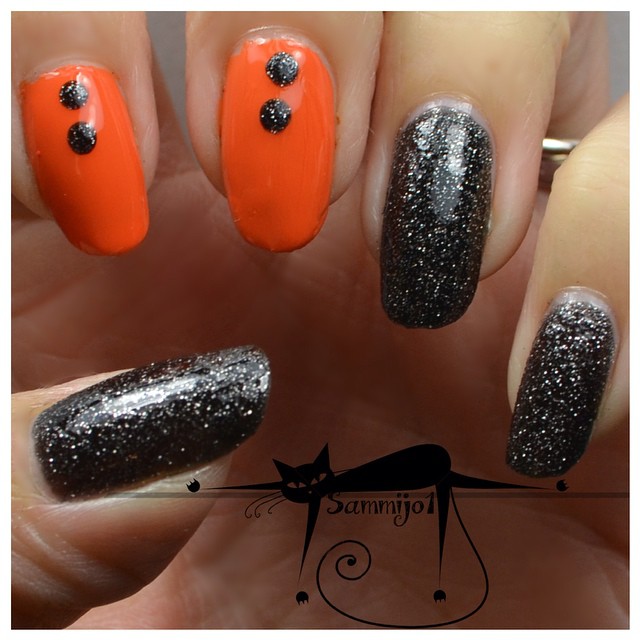 These sparkly nails by @sammijo1 are so easy to achieve. Paint two nails orange, and three a shimmering black. On the orange nails, just put two dots of the black glitter and you're all set!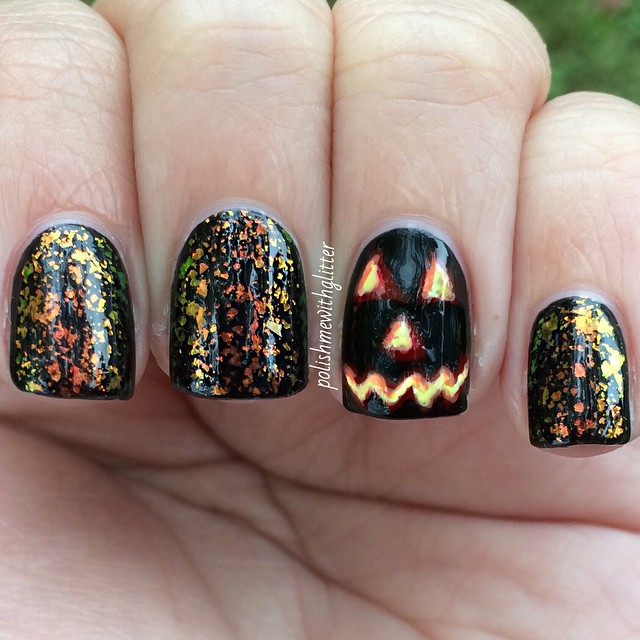 Take it from @polishmewithglitter, iridescent flake top coats are the simplest way to glam up any halloween nails!