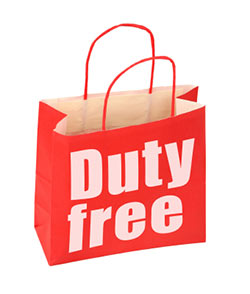 I spend so much time in airports and I have to say, I'm always amazed by the beauty shopping in Duty-Free's. Some airports carry incredible deals and exclusive collections available only to frequent fliers. Here are some of my favorite exclusive Duty-Free products.
I love the mini lipgloss collection by Bobbi Brown, which has 3 gorgeous shades in hot pink, petal and rosy. You can wear a different one each day, depending on your mood.
The Chanel Travel Makeup Palette and the Lancme Absolute Seduction Palette are filled with every makeup shade you will ever need to look totally gorgeous.
The Happy Hands Kit by L'Occitane is perfect for travel because we often forget our poor hands and they can get so dry and cracked, especially while we fly. With these purse-size moisturizers, you can keep your hands hydrated no matter where you might be traveling.
Skincare deals abound in terminals so look for your favorite coveted moisturizer or line erasing serum that you may have stopped buying due to the recession. You may find it's more affordably priced at the Duty-Free.
The Heathrow terminal in London has some of the best beauty shopping around as well as Amsterdam and Paris' Charles De Gaulle.
Duty-Free is a great place to stop into when you are feeling a bit travel frazzled because you can test out these fab finds, which will help you feel a bit more refreshed and relaxed. However, be careful not to spread bacteria by double dipping into already open sample containers and applying those products to your face. Ask to test lipglosses, eyeshadows or anything your skin can touch by asking for a fresh sample. If you're not careful, hello swine flu!
As an established makeup artist, many beauty brands send me samples of their latest products for consideration. I only write about the items that I truly love and I always abide by Daily Makeover's Editorial Ethics Pledge in each of my Positively Beautiful posts.