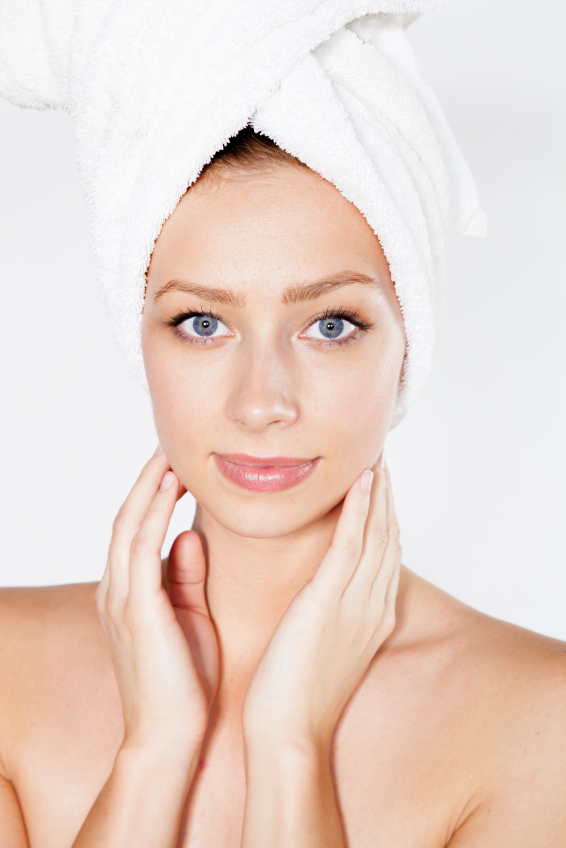 With all of the beauty trends, tricks and techniques out there, everyone's explaining beauty products up, down and sideways. However, because we've got the insider knowledge on the industry, we're sharing with you "10 Things No One Ever Tells You" as your complete cheat sheet for all things beauty. 
With a change of the season coming our way, not just our latte orders are in for something new (pumpkin everything, of course). Dry skin is more common than not during cooler weather, and considering you'll be best prepared if you know how to handle what comes your way, below are 10 things no one ever tells you about dry skin.
MORE: 10 Things No One Ever Tells You About: Foundation
1. Exfoliating is actually really good: It may sound strange that using scrubs and exfoliants will help dry skin, but this is a key factor in getting your skin to look smooth and hydrated. You should be exfoliating once or twice a week, then moisturizing your skin immediately afterwards. If you're into DIY beauty products, make your own scrub by adding extra virgin coconut oil mixed with salt or sugar on your freshly cleansed skin (face and body). Use a warm, wet washcloth to wash away and follow up with a body butter for maximum benefits.
2. Use a humidifier: The moisture in the air is actually good for skin. If you live in a low-humidity climate or you are around furnaces in the winter, invest in a humidifier. Your skin needs more than 30 percent humidity to stay properly moisturized. A room heated by a furnace can have as little as 10 percent moisture.  Consider sleeping with a humidifier in your bedroom and keep doors closed so the moist air doesn't escape the room.
3. Avoid drying soaps:  Soaps can be drying, so stick with a creamy moisturizing cleanser that contains glycerin or petrolatum for the face and body. Also, skip the bubbles in bubble baths  (which can contain harsh foaming ingredients) and opt for bath oils or oatmeal scrubs, which are great for soothing dry, itchy skin.
MORE: 8 Body Butters to Keep Your Skin Hydrated This Fall
4. Put an end to steaming hot showers: Yes, they feel amazing for the time being, but they're actually doing more harm than good. Hot water robs skin of moisture causing dry skin, so it's best to shower in lukewarm water. If you can't bear this rule (we know it's easier said than done), try to keep your showers short and only shower once per day. The lukewarm water rule also applies to hand washing, ladies.
5. Moisturize as soon as you come out of the shower: Hands, feet, face and body, make sure to get it all. It's important to moisturize as soon as you get out of the shower to seal in hydration immediately.
6. Have you taken your fish oil pill this morning?: People who take a fish oil pill every morning have more moisturized skin, hair and nails. Due to the high Omega-3s found in the supplement, you're given an all over glowing and hydrated appearance.
7. Be aware of your tap water: Especially if you have extremely sensitive skin, consider avoiding rinsing your face with tap water, which can contain harsh minerals that are especially drying to the skin. Instead use a cold cream like Pond's to cleanse your face or use bottled spring water if you're really feeling fancy.
MORE: Skin Care 101: How to Transition Your Routine For Fall
8. Change foundations according to what your skin tells you: With the change in seasons and skin, you should also change up your beauty regimen. Instead of the powdered foundations, opt for silkier formulas. The same rule applies with blush, and you can replace your powder with a cream. This will help to moisturize skin and keep dry skin from popping up.
9. Drink more water than you want: Really push to drink more water throughout the day. This flushes out your entire body and makes your skin plump and hydrated! Hydrating your body from within is the best way to look smooth and silky on the outside.
10. Beware of perfumes: Some scents can be truly irritating and drying to your skin, take notice of how your skin reacts when wearing a certain scent and switch to a fragrance-free formula immediately.
Image via Istock