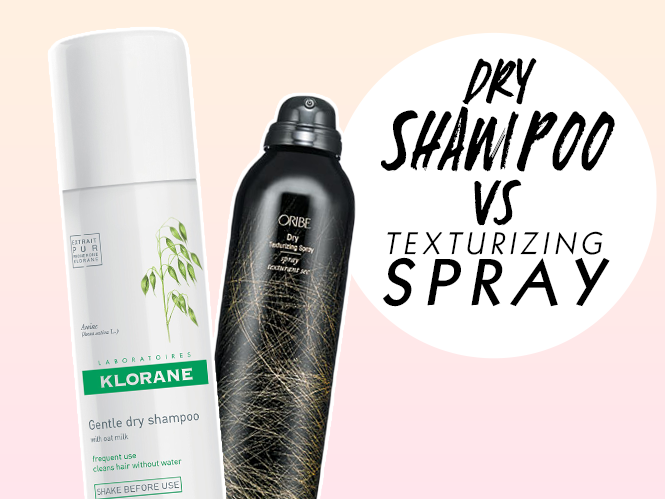 The beauty industry as a whole are professionals at coming up with products that claim to do everything (see: BB creams, CC creams, ZZ creams), but when products intended for different purposes actually do multiple, it's like the sweet spot in a Venn diagram. We're talking about dry shampoos and texturizing sprays–the trouble is figuring out which one to choose.
At first, the categories seem identical. Both remove oil from hair, usually with a slightly gritty powder. For most people, that leaves it texturized, or less slippery and able to hold onto styles better. But here lies the dilemma. Dry shampoos relieve most oily-haired girls for a few days, but the amount of volume tends to depend on how much you use, and no one wants a ton of powder in their hair, especially when you're trying to avoid showering. On the flip side, volumizing and texturizing sprays like Bumble and bumble's famed Surf Spray are great for creating waves, but usually soak up oil because of all the drying alcohol in them, which isn't the healthiest solution.
The trick, as with most things, is the timing. We love Klorane's dry shampoo when we're looking to extend a blowout and want to feel clean again, while we usually reach for texturizing spray right after we've washed our hair and it's too slippery to work with. So look at it this way: dry shampoo staves off a shower, while texturizing spray brings one closer (don't get us wrong, showering's our main hobby, but sometimes a girl's got other things to do). Take a good look at your priorities, and decide from there.
Or, if you want a little of both, Oribe's Dry Texturizing Spray's gotten rave reviews for packing just the right cleaning punch with its volumizing capabilities. Technically two in one, some say it prolongs that "second day after a wash" feel, whether it's actually the first or secretly the fourth. Better still, it's perfumed–no one has to know.
More From Beauty High:
15 Best Nail Art Blogs on the Internet
50 Beauty Rules to Break
101 Beauty Tips Every Girl Should Know