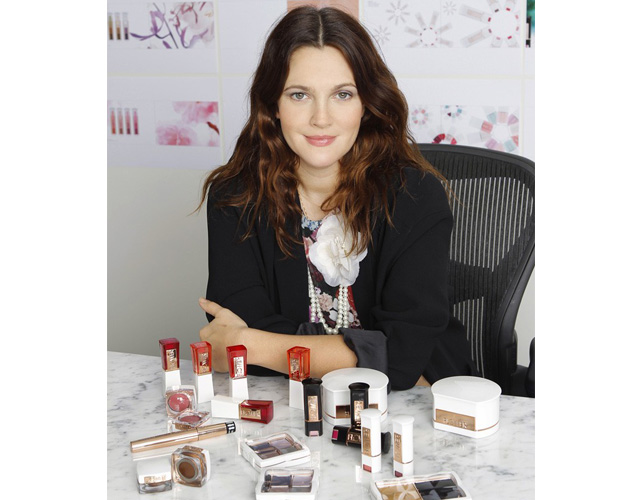 Drew Barrymore may already have her hands full now that she's a new mom, but that's not stopping her from getting further into the beauty business. The actress (and CoverGirl) is launching Flower, according to WWD, which will be a color cosmetics brand that she co-owns that will enter Wal-Mart stores in January.
"I think, if you really care about things, then you just naturally get involved. I don't want to sit there and hope it works out. I want to be in the middle, in the mix, making sure it works out," said Barrymore. "It is almost an uncontrollable desire to be one of the people who is creating. Maybe it is just a type of personality. I can't sleep at night. I care."
Flower is co-owned with Maesa Group, a design and manufacturing firm, and Scott Oshry, the president, partner and board member at Maesa described the line as "True luxury at mass. Once we identified this white space, we thought to ourselves, you know what, we should tackle this. We should build the best color cosmetics brand that we can."
As for the reasoning to sell at Wal-Mart, Barrymore summed it up quite simply: "We want it to be in people's hands." The prices will range from about $5 to $15 with products in face, eye lip and nail categories (181 in all). Maesa emphasized that with all of these products, the formulas are custom-made at the same price point as those used in luxury products, which means that the firm spends two to three times what a typical mass beauty marketer does on each product. The brand is looking to cut costs instead by using less of a sales force and less extensive ad dollars, and instead relying on Barrymore's popularity and Wal-Mart's reach.
We have always been a fan of Barrymore's – and loved her as a CoverGirl model (and short stint for Lancome back in the day). But, what are your thoughts on her creating a makeup line? Let us know in the comments below!
[WWD]