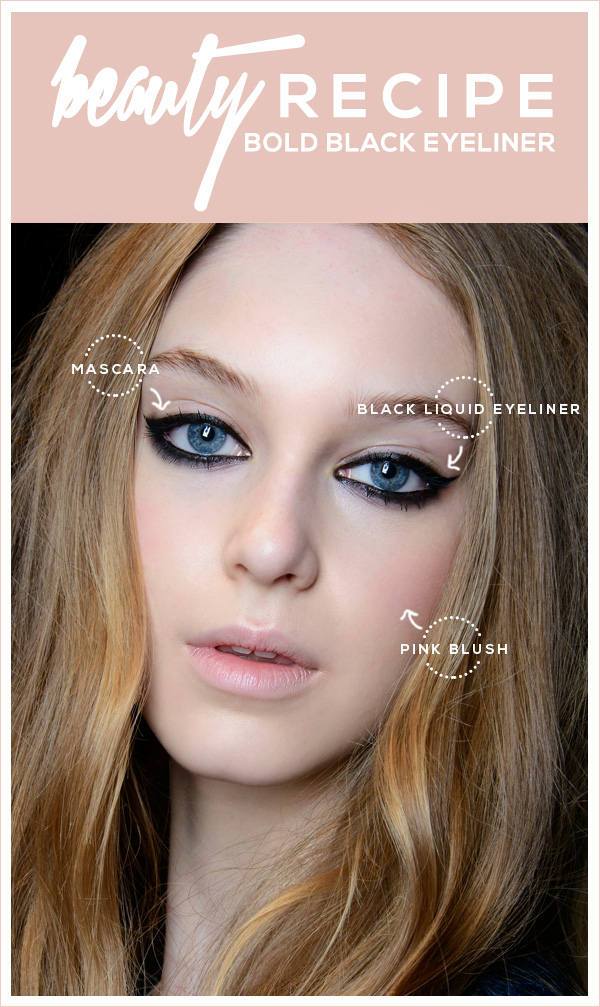 When it comes to makeup, if there's one thing we're always experimenting with, it's a new eye look. From simple shadows to extreme eyeliner, there's a lot of room to play around. We're all about trying it all. And while the eyeliner look above may seem intense, creating it is actually as easy as can be. Read on below to get some dramatic eyes in the simplest way, as we break it down for you step by step.
Black Liquid Eyeliner: Taking your jet black liner, start by drawing a thin line at the inner corner of your upper lash line. As you drag the line outward, gradually start to make it thicker. Once you've reached the outer corner, extend the line up and out to create a sharp cat eye flick. Repeating the same process of keeping the liner thin in the inner corner, and thicker on the outer, apply the liner right below your lower lash line in the same motion. End the liner along your lower lash line by connecting it to the wing you've created above. Be sure to get the eyeliner as close to the inner corners of your eye as possible, as it should look like the entirety of your eye is completely outlined.
Soft Pink Blush: Since there's a lot of darkness going on around the eyes, you'll want to keep the rest of your face pretty neutral. However, leaving it one-toned and flat, could give off the zombie look, which isn't exactly the style we're going for. To liven things up a bit, dust a soft pink blush along the apples of your cheeks for a natural flush.
Lengthening Mascara: Black eyeliner is notorious for making your eyes appear smaller, so to help open them, turn to some mascara. Apply a few coats of your favorite lengthening mascara to elongate your lashes and really make your eyes stand out.