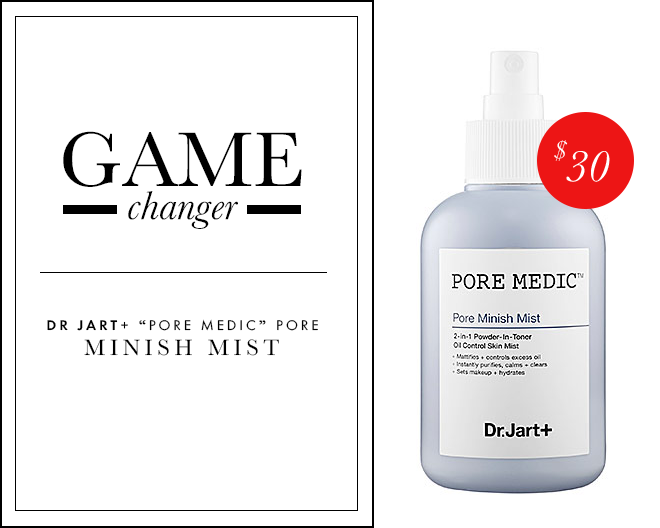 In our new series, Game Changer, we're highlighting products that are so good, they are having a significant effect on our beauty routines.
Having oily skin is a constant battle, an endless tug of war of trial and error. There's no shortage of products that purport to be the Holy Grail of balancing slick skin, but more often than not, they only serve to exacerbate the problem rather than alleviate it.
In my personal experience, no matter what mattifying moisturizer, foundation, or powder I use, I inevitably end up shiny by the afternoon. I may start my day off blended and blotted to perfection, but by the time 3 o'clock rolls around my face doubles as a mirror. My only option has been to accept this as my permanent state and acknowledge heading to the bathroom every few hours to lay on the powder as a necessary constant in my life. And yet, not content to simply give up, I don't exactly eschew mattifying products altogether. I approach new products anticipating that they will fail, so I don't get my hopes up, but I figure it's still worth a try.
My lack of faith in oil control products has been shattered—and I mean shattered—by Dr. Jart+ Pore Medic Pore Minish Mist ($30, sephora.com). Full of flower and plant extracts, witch hazel, and a mysterious ingredient known only as "Evermat," the spray boasts skin care benefits as well as an instant mattifying effect. The secret is in the unique formula, which consists of a powder within a toner. When the mist dries down on the skin, it serves to absorb oil sans fuss with a method that's far more refreshing, not to mention less involved, than layering on powder.
I headed to the bathroom recently, powder compact in hand, only to find that I could actually do without the requisite touch-up. To my surprise, the Pore Minish Mist had handled it for me, leaving behind a soft, natural matte finish that continued to soak up oil throughout the day. An oil-absorbing spray may seem like a novelty, but this product is anything but.
Read more: How to Prevent Oily Skin