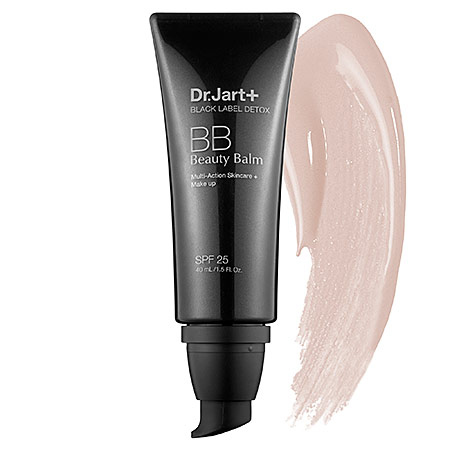 When BB creams first flooded the market a few years ago, the makeup-buying public was understandably hooked. A foundation-like base product with a lightweight, semi-sheer formula that promised to cover blemishes and visually "fix" every skin woe—could there be anything better?
It didn't take long for the industry to pick up on the popularity of BB and run with the concept. After BB came CC, and even DD reared its skin-perfecting head. The category has reached its over-saturation point, proving that you can have too much of a good thing. For my part, I wouldn't care if I never heard the words "BB cream" ever again. The term has lost its meaning.
It goes without saying that I've tried my fair share of BB creams and the like. This is partly to do with my job, but just as much to do with the fact that BB creams are the fruition of makeup dreams for people like me: I prefer not to fuss with brushes, I don't have much time to get ready in the morning, I'm—ahem—maybe a little bit lazy from time to time, and I have decent (not great, not terrible) skin that requires a corrective veil of light-to-medium coverage on most days.
Very few of the formulas I've ever tried even come close to being worth their salt, but I also struggled with finding a tinted moisturizer or foundation that covers all the bases. I snagged Dr. Jart+ Black Label Detox BB Beauty Balm ($36, sephora.com) on a whim and expected nothing from it. In fact, it sat in my makeup bag in its original packaging for over a week.
It turns out that I'm just a jerk, because this multifunctional product blew me out of the water. Less than a dime-sized amount hides everything, blends seamlessly with fingers alone, and leaves a natural finish that isn't quite matte but isn't overly "glowy," either. It hides purplish darkness around the eyes and redness around the nose so well that I can skip concealer, and it contains a natural, non-chemical SPF 25 derived from titanium dioxide and zinc.
I can't attest to the verity of this BB cream's long-term benefits, because I have my doubts about just how effective skin care built into makeup can be, but I can tell you that neglecting to wash it off before bed begets no errant pimples, clogged pores, or irritation to speak of. It's basically the perfect formula for summer: You can slap it on for complete coverage and then forget about it. In fact, I would say it's the only summer product one really needs.
Read more: BB Creams That Apply Just Enough Coverage