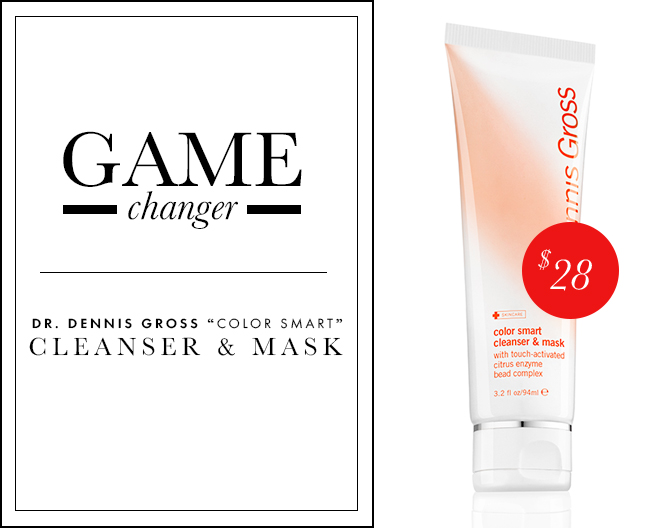 If you've ever tried gentle, natural sulfate-free cleansers, it's entirely possible that you may have been turned off by the products' lack of bubbly, satisfying lather. Although the natural formulas work just as well (or even better) than your standard chemical-laden fare, you can't necessarily see the product working, as you do with a rich foam. Beloved dermatologist Dr. Dennis Gross took that logic one step further with his latest innovative product, a cleanser that actually changes color once it's gotten the job done. Dr. Dennis Gross Color Smart Cleanser & Mask is a 2-in-1 formula—lather quickly for a daily cleanse or let it sit for 3-4 minutes as a firming mask.
Applying masks are pretty straightforward—let it sit, then rinse—but when it comes to cleansing, a proper massage is essential for the ingredients to really penetrate the skin. Dr. Gross acknowledges that by encouraging users to wait for the product to change colors rather than scrub and go. Personally, I've always assumed I've cleansed correctly, and with collectively our busy lifestyles, I don't think I'm alone in rushing my skin care routine. Still, I found myself waiting (and waiting) for the product to turn from a mustard yellow to beige. Turns out that I need to double how long I massage the cleanser for the full benefits.
The formula itself is just what winter skin needs: With three forms of vitamin C, it brightens and improves elasticity, while French rose clay and kaolin clay eliminate bacteria, and hyaluronic acid ensures hydration stays put. Smart, indeed.
Read more: The Best Face Mists for Revitalizing Sad Winter Skin