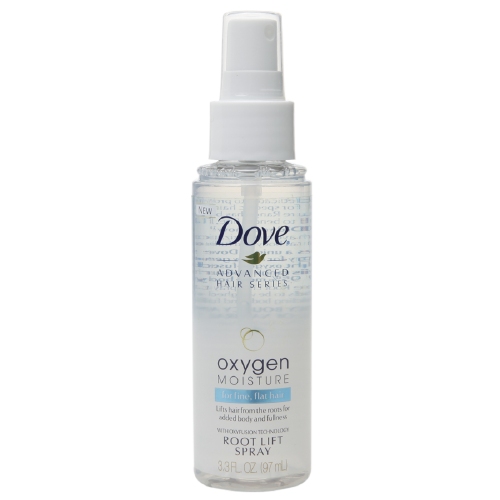 You know how you see the "bestsellers" and "most popular" products in beauty stores, so you of course scoop them up, but then you realize you have no idea how to work them? In "How It Works," we're going to explain to you exactly how to get the best use out of your products, whether they are cult classics or hot off the conveyer belt must-haves. We'll teach you the basics, as well as a few industry expert tips to make sure you're getting the most out of everything you buy.
If you've got flat, limp hair, you've probably tried everything in the book to infuse a bit of volume. Unfortunately, most products that promise full, luscious locks also leave your hair dry, sticky and often stiff looking. Finding something that can give your hair natural looking body is a fine haired girl's equivalent of the Holy Grail, which is why we were tickled pink when Dove introduced their new Oxygen Moisture Root Lift Spray.
MORE: The Do's and Don'ts of Hair Volume
Product Perks: 
Unlike other root lifting products, this one doesn't leave your hair dry or sticky.
For fine hair, this product adds up to 95% more fullness after one use.
A drugstore buy, this purchase won't break the bank.
How It Works: 
Dove's new Oxygen Moisture Collection, including this root lift spray, contains moisturizing ingredients fused with oxygen. The ingredients create a balance of moisture and volume in hair that's instantly and evenly dispersed at application, so your hair is getting a healthy dose of moisture — and a breath of fresh air — when you use these products. The result? Bouncy, full hair that's smooth and easy to manage. Basically, it's a dream come true.
Where to Buy: Dove Oxygen Moisture Root Lift Spray, $6.09, Drugstore.com