Your skin isn't the only thing that suffers when exposed to the sun. UV rays can fade hair color and leave hair dry and brittle, which leads to split ends and frizz.
Just like the sun can fade your curtains, it can penetrate the hair's cuticle to damage the color pigments that create your natural hair color. Sun also dries out your hair, which causes chemical dyes in hair to fade. Thankfully, there are products on the market that protect hair from UV rays and prevent color fading, promote elasticity and lock in moisture.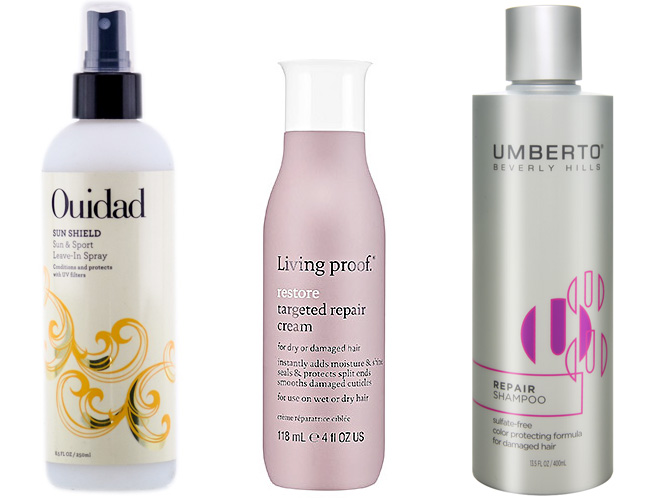 UV-Protective Products To Try:
Umberto Beverly Hills Repair Shampoo and Conditioner ($12.99, target.com)
This sulfate-free shampoo is infused with sea silk, Vitamin E and a UV filter that protects against free radical damage, color fading and creates soft, hydrated strands.
Living Proof Restore Targeted Repair Cream ($24, livingproof.com)
This silky cream prevents and restores damage from sun and other sources. Living Proof's signature molecule PolyfluoroEster builds the protein ceramide back into the cuticles for stronger, moisturized strands.
Ouidad Sun Shield Sun & Sport Leave-In Conditioner ($21, ouidad.com)
Curly strands are already thirsty for moisture, so the sun's heat can do double damage. Use curl expert Ouidad's sun shield which forms an invisible shield against UV rays and feeds in a blend of proteins and amino acids.
Garnier Fructis UV Ultra Strong Hairspray ($4.49, garnierusa.com)
Lock in a hairstyle with this hairspray that that blocks color fading and gives hair an instant boost of shine.
L'Oreal Paris Color Vibrancy Dual Protect Spray ($6.99, lorealparisusa.com)
Protect against two types of heat damage in one step — UV rays and heat styling tools. Apply before blow drying or spending time in the sun.
Read more: Easy Ways To Add SPF To Your Beauty Routine