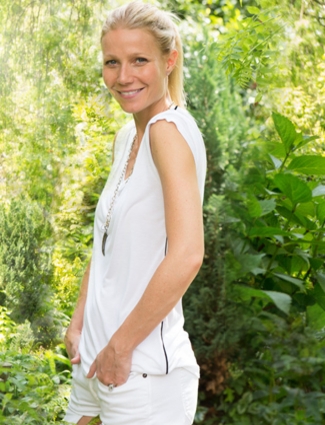 Photo: Goop.com
Gwyneth Paltrow is one of those stars we can't get enough of; she's super talented, quirky, and so ridiculously stylish. In a nutshell, she seems like the perfect BFF. Unless, of course, you're bigger than a size 8.
The Makeover Poll: Gwyneth Jumps On The Ombré Train
This week, E! Online reported that the actress "collaborated with Kain Label, creators of the perfect tee, to create an exclusive version" of the shirt (pictured) for her lifestyle company, GOOP. While we're totally onboard with a celebrity item designed by someone as fabulous as Gwyn, we were a little disappointed to learn that the shirt only goes up to a size 8. That means gorgeous celebs like Christina Hendricks and Amber Riley couldn't squeeze into this tee.
It certainly seems out of character for the star, who showed the world size doesn't matter in the movie Shallow Hall. But she's seemingly turned 180˚ on that thought. Besides the size limitation, Gwyneth's closet staple will also set you back about $90. It could be worth the investment, but definitely not during Thanksgiving or a pregnancy, when our weight is bound to fluctuate.
Obviously, we think she should make the shirt in more sizes–big girls like Gwyneth too. But do you think you could support Goop after they excluded women bigger than a size 8?