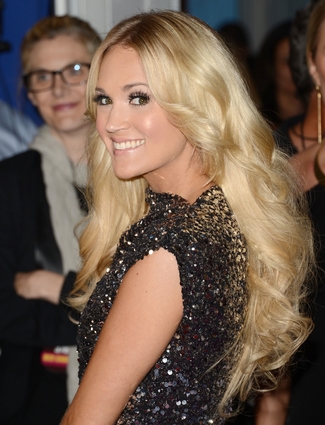 Photos: JB Lacroix/Getty Images
It's obvious why Carrie Underwood's style, especially her beauty looks, is coveted by many of us. Despite her pretty quick rise to fame, she still maintains that girl-next-door allure. She's the perfect poster child for glowing skin (no wonder Olay scooped her up), her makeup choices are always spot on–never too heavy, but enough shimmer and shine worthy of a rock star (at least a country singer), and her hair has commercial-worthy body, bounce and shine. BUT, last night at the CMT Music Awards, the beyond-real length of her hair made me do a double take. It was the first time I thought she looked "fake." Obviously, practically every celebrity uses a few hair extensions to beef up the body in their hair, but has she gone too far this time?
When anything–whether it be hair, breasts, nails, eyelashes, etc.–becomes so obviously fake, is it really still attractive?
Related: Top 10 Most Fake Looking Celebrities
Once you cross that line between looking realistic and looking too plastic, the allure peters out pretty quickly for me, even though I know their "realistic" look is achieved with the help of many beauty tricks and tools. Maybe Carrie Underwood just got so use to her extensions that she needed even more to feel like she had any hair at all, and lost her sense of what could possibly be perceived as real hair. Similar to how some women become tanorexics, or get so used to their perfume, they pour it on, intoxicating the entire room, yet they think it's perfectly fine.
Related: Try on Carrie Underwood hairstyles in the Makeover Studio.
What do you guys think? Is a celebrity still attractive, even when you know a part of her is fake?