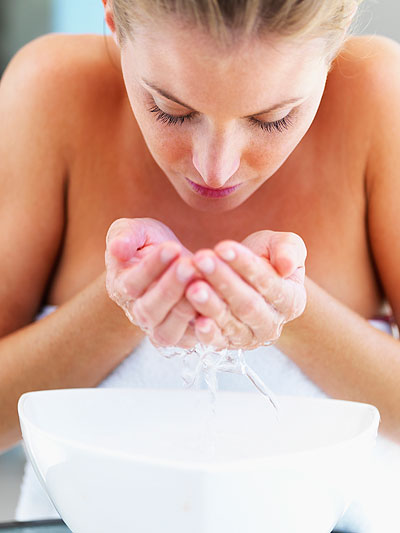 Washing your face seems pretty basic, but use the wrong products or technique and you're setting yourself up for breakouts, dryness and other no-fun skin issues. Here's how to avoid the most common cleansing mistakes.
Take your makeup off first.
If you're using toner on a cotton pad to remove makeup traces after you cleanse, you're doing it backwards. Instead, use a facial oil or non-greasy makeup remover to take off foundation, concealer and sunscreen before you lather up. (Toners aren't meant to take off makeup, but to constrict pores and balance skin's pH — but you might not even need one.) Try Sephora Supreme Cleansing Oil ($14, sephora.com) or Koh Gen Do Cleansing Spa Water ($39, barneys.com).
Choose the right cleanser.
"The 'correct' way to wash your face really all depends on your skin type," says board certified dermatologist Dr. Ariel Ostad. "People with normal to oily skin (or acne-prone skin) can use a cleanser with salicylic acid or alpha hydroxyl or a Clarisonic brush to remove dead skin cells." If you have sensitive, dry or redness-prone skin, use a mild cleanser such as Cetaphil Gentle Skin Cleanser ($11.49, drugstore.com). Unless you're really oily, you don't need a cleanser that foams — that squeaky clean feeling means you're stripping your skin's moisture (and you already removed your makeup, remember?).
Don't scrub!
Are you using your wash cloth wrong? "A wash cloth is a good idea for use as long as they are not too abrasive," says Dr. Ostad. "The mistake people make here is that they rub their face for too long or are not gentle enough, which can lead to more redness in patients with sensitive skin."
Take your time.
Just like brushing your teeth, if washing your face takes less than a minute, you're not being thorough enough. Most people with normal, dry or sensitive skin only need to cleanse once a day in the evening; just rinse with water or a moisturizing toner, such as Mario Badescu Chamomile Cleansing Lotion ($15, mariobadescu.com), to start the day. If your skin is oily when you wake up, cleanse in the morning, too.
What's the best cleanser you've tried?