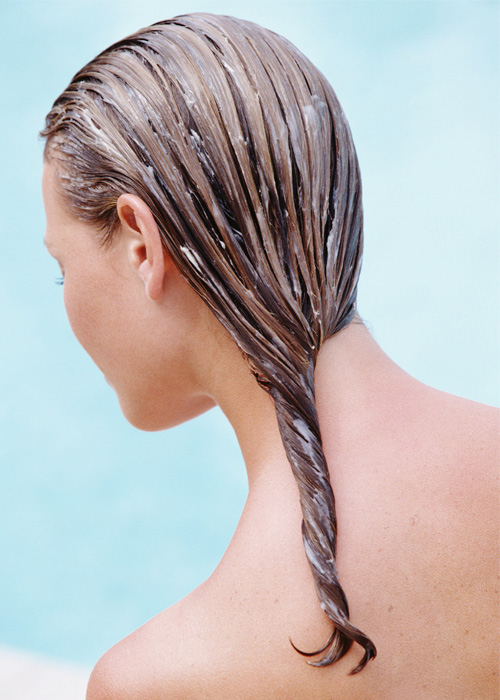 Sometimes the best hair treatments aren't in the beauty aisle, but in the pantry. "The most obvious benefit [to DIY hair treatment] is financial, but other benefits include the ability to customize treatments for your own special needs," says Kyle White, lead colorist at Oscar Blandi Salon in NYC. "If you have a specific oil you prefer for its scent or unique benefits, you can use that more heavily, or if you have allergies to certain ingredients then you can avoid them." Here are some of his favorite recipes for hair masks that you can mix up in your kitchen.
Enhance Your Hair Color
Brunettes can tone down brassiness with a grape Kool-Aid or coffee rinse. For redheads, use a cranberry rinse or cherry Kool-Aid to add vibrancy and shine. Blondes can enhance golden tones by combing through a glass of champagne. "The champagne color will bring out any golden highlights while the carbonation gives volume and shine," says White. To combat brassiness in blonde hair, use a drop of purple food coloring in your shampoo to neutralize the orange tone.
Boost Shine
Try this mask for stronger, shinier hair, says White: "The two most important ingredients in any hair mask are protein and moisture, so get the maximum one-two punch with egg whites for protein and coconut oil for moisture.  Mix together in a bowl and heat for 30 seconds in the microwave. Apply to damp hair for at least 15 minutes and then shampoo out and enjoy the shine!" 
Thicken Hair
Because pumpkin is packed full of potassium, it is a great source for promoting hair regrowth. It's also rich in vitamin A which is great for the scalp. White recommends this recipe:
Pumpkin Hair Conditioner
·         2 cups pumpkin (chopped and cooked)
·         1 tablespoon coconut oil
·         1 tablespoon honey
·         1 tablespoon yogurt
Directions
In a food processor or blender, puree the pumpkin and yogurt.  Next, add the coconut oil and honey ensuring that the mixture is smooth.  Apply the mixture to damp hair.  Cover hair with a plastic cap, and let it sit for fifteen minutes.  Wash out thoroughly using your everyday shampoo and conditioner, and style as usual.
Read more: How Much Hair Loss is Normal?