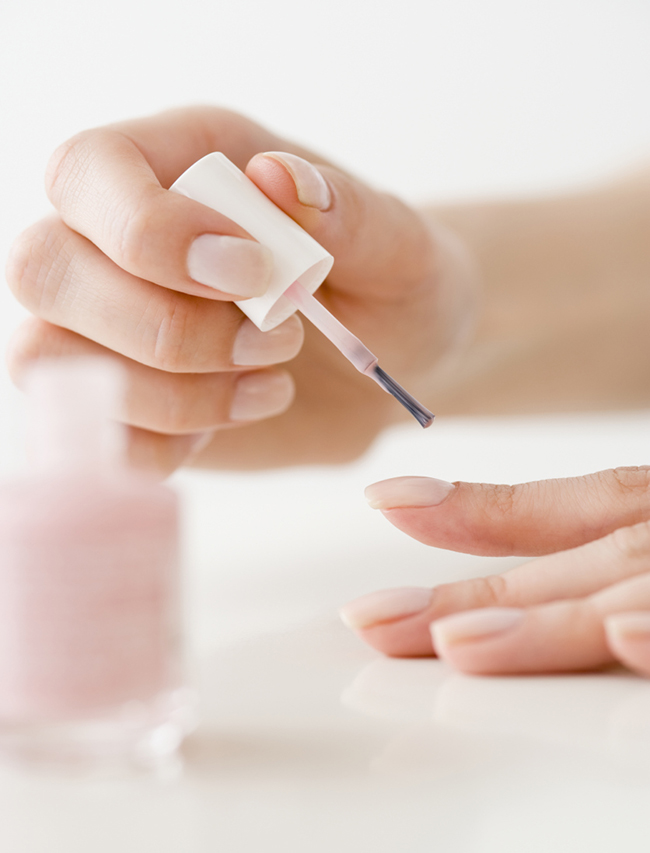 With all the attention that nail art gets, neglecting your digits is akin to leaving the house with wet hair, or your underwear showing (or both?). Good cuticles will take you far, so it's in your best interest to take care of your hands—after all, they're one of the first things you use when meeting new people. Gel manicures wreak havoc on your nail beds time and time again, and going to the nail salon on a weekly or bi-weekly basis really eats away at your wallet. Everytime you paint your nails at home though, the color chips the next day, the shape is never as pretty, and your cuticles are just ragged. Instead of just doing the painting, you can make your manicure look salon-done with a couple tools and tips.
Gear up. You'll notice that whenever you get your nails done, there's a newly sanitized set of manicure tools that your salon technician uses for every client. Obviously health and safety is of utmost importance in a practice that tends to countless cuticles a day. All you'll need is a good file, buffer and clippers. 
Oils, Not Water. Salons generally always have you soak your fingers in a bit of warm water to soften before they push back or remove your cuticles. This isn't great because your nails absorb water, making them expand slightly in size. If you paint over that, once your nail "shrinks" back, the polish's grip on your nail bed will be disrupted. Instead, use a cuticle oil or cuticle removing treatment. "Weekly cuticle treatment is essential," touts Deborah Lippmann, Celebrity and Fashion Week Manicurist. "Apply an exfoliating cuticle treatment, like my Cuticle Remover and massage into the cuticles, pushing back gently to remove dead skin cells. Do NOT cut your cuticles. The cuticle protects nails from infection, so when it is cut improperly it allows for bacteria and fungus to infect the nail bed." You hear that, guys? No snipping!
MORE: Post-Gel Manicure Recovery Tips
Moisturize! The reason your cuticles and the surrounding skin probably look so dry and eventually turn into hangnails is because the area is super dry. You use your hands and your fingers to essentially do everything so they really take a beating. Pick up a cuticle oil or a cuticle cream to nourish that tiny bit of skin that really makes or breaks your mani. Deborah Lippmann's famed cuticle repair cream, The Cure, is a top notch choice that repairs as well as protects from future damage with Raspberry stem cell extract, red algae, shea butter, sodium hyaluronate and a bunch of vitamins. Seems like such a minute detail but well-hydrated cuticles really make a difference.
Shape and Smooth. The reason so many nail selfies or mani-pics look so great is that the nail shape is flattering and even. If your nails are all differing lengths or shapes, your fingers can start to look a bit distorted. Jury's out on whether you're supposed to file in one direction or it's okay to file in a sawing motion both ways. Well turns out, both are true. File beginning from each side of the nail moving towards the tip. You don't have to apply too much pressure, and filing at a 45 degree angle as opposed to perpendicular to your nails is best. This prevents the edges of your nails from getting too split, which can lead to breakage easier. Oval shapes tend to last out breakage longer than square or squ-oval since the shape is more compact.
Protect Your Work. If you haven't already experienced the magic of primers and base coats, your life is about to get a lot easier–especially if you're going to spend a lot of tedious effort for some nail art. A good base coat and top coat (both necessary) will stretch your mani far longer than just polish alone. Keep in mind that since it's your nail tips that generally always chip or break, applying a little extra top coat will protect that area for longer. Just paint the tips from three-quarters down the nail, and then go over it to paint the full nail. Swipe along the edge as well to cover as much vulnerable areas as possible.
Cover Your Tracks. The mark of a great mani is no sloppy bits of polish on your cuticles or the surrounding skin of your nail. You can get polish-removing pens from any drugstore, or a simple trick most manicurists swear by is a stiff angled brush dipped in polish remover. It allows you to really get into the crevices without disturbing the polish on your nail. With that at hand, it barely matters that your dominant hand is SO much more steady than your other hand.
MORE: Fake It Til You Make It–No More Chipped Manicures
Ice 'em. Your blowdryer dries your hair faster, but the same idea unfortunately doesn't apply to your nail polish. Despite whatever a quick-dry topcoat says, that doesn't speak for the nail polish that's underneath it. Dunking your digits into a glass of ice water–as cold as you can stand for a minute–will literally stop the polish in its tracks. The polish has to solidify to be "dry" so icing them slows it down a lot quicker. If you're really in a rush, swiping some cuticle oil on top can reduce chances of snagging the surface on your clothing or anything.